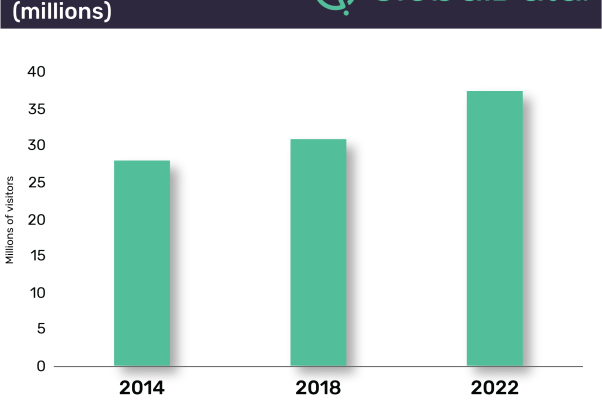 By 2022, international arrivals to the North Africa region will grow from 31 million in 2018 to 37.4 million, posting a compound annual growth rate (CAGR) of 4.8% says GlobalData, a leading data and analytics company.
GlobalData's latest report, 'Destination Market Insights: North Africa', reveals that tourism to the region will be boosted by changing travel advice, adventure tourism, and increased connectivity.
Laura Beaton, Travel and Tourism Analyst at GlobalData, commented: "The region as a whole has been blighted by safety concerns and a number of high-profile terrorist attacks directly targeting travelers. However, the region has so much to offer and with the right marketing techniques, there is great potential to increase tourism numbers above and beyond pre-Arab Spring numbers."
*For the purpose of this report we considered Algeria, Egypt, Morocco, Libya and Tunisia
Image for publication: Please click here
Visitor numbers fell in 2015 and 2016 after terror attacks such as the shooting at Sousse in Tunisia and the bombing of a plane on its way from Sharm El-Sheikh to St Petersburg. Now, four years on, the countries have begun to recover and the future of tourism is looking positive.
As governments change their travel advice, travelers will have more confidence to visit North African countries. Improving brand image is the most important thing for North African countries to achieve, now that travel advice is more favorable. Other countries that have witnessed various terror attacks, such as France and the UK, are able to bounce back quickly due to their strong brand images.
Beaton continues: "The speed at which companies have jumped at the chance to resume holidays to Sharm El-Sheikh is a positive sign for the region as a whole. Travel companies can see the potential in these countries despite the things they have had to deal with in the past."
The region offers beaches, deserts, diving, flavoursome food, and vibrant cities. The history and culture of the region should be leveraged as much as possible to increase visitation.
Beaton concludes: "A knowledgeable guide is invaluable to those that want to learn about the region. While there will be those that want to travel independently, organized tours are a great way to attract travelers that are more apprehensive about visiting." https://www.globaldata.com/
www.delreport.com