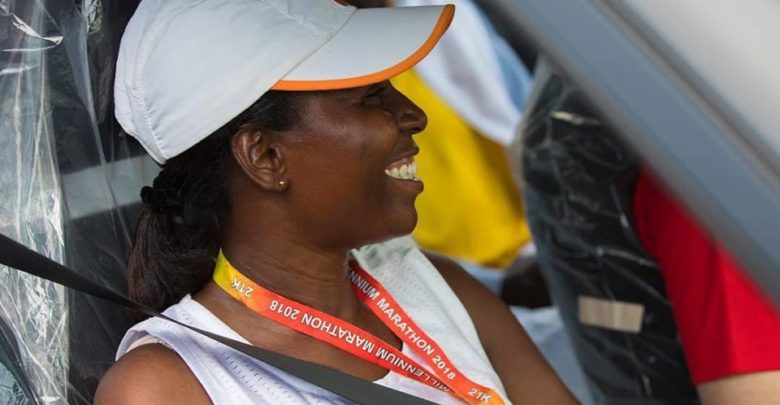 Amdiatu Seidu, a 42year old trader was the big winner in the final Special Raffle of the Big Millennium Marathon 2018 which took place at the Black Star Square under the supervision of the National Lotteries Authority (NLA).
She won the brand new Nissan SUV car from Japan Motors, but could not drive and said she is starting driving classes from Monday.
This year's fourth Millennium Marathon was well participated and the organisers thanked the media for their support and wide publicity.
There were several activities attached to this year's edition like the Mini Raffle Draws, a Health & Fitness Summit at the British Council Hall, a Healthy Cuisine Fair at the Accra Polo Club, Sports Wear Fashion Extravaganza at Alisa Swiss Hotel, Pasta Party, Bazaar and Wedding at the Independence Square, and an After Beach Party at Zen Garden at Labone.
Runners came from Nigeria, Burkina Faso, USA, France, UK, Morocco, Colombia, China, Spain, Japan, Holland, Kenya, Tanzania, Germany, Russia, Peru, Benin, Australia, Equatorial Guinea, South Africa, Ethiopia and Congo.
Ismael Arthur and popular young long distance runner Elizabeth Azure from the Upper East Region run faster than anybody to win 21 km races in the male and female categories of the well participated 2018 Millennium Marathon which started and ended at the Black Star Square in Accra on Saturday.
Arthur run in a time of 1:08:09, he was followed by Kudanu John who did 1:08:53 and former champion, Malik Yakubu who placed third in 1:08:58.
Elizabeth Azure was followed by Ramatu Abdallah and Judith Bayele (all of then came from the Upper East Region of Ghana).
Both Arthur and Azure went home with a cash prize of $2, 500 and hamper from Unilever. The second and third placers got $1,500 and $1,000 respectively.
Kakonissa Midoouna from Togo won the 5km male category and went home with $500; he was followed by Desmond Sarpong and Ametepe who placed third.
Raphael Nkegbe won the para athletes on wheel chair race. He was followed by Yakubu Abukari and McClean Atsu. They were all rewarded by handsome cash prizes and hampers.
Sponsors, donors and service providers of the Millennium Marathon 2018 are Unilever, Japan Motors, Allianz Insurance, Impact Clinic, Tang Hotel, MTN, MenzGold, Twellium Industries, NIB, Wigal, Whirlpool, Can West, Royal Habits and Zen Gardens.
Others are Elite Sports, Decathlon, NLA, Zoomlion, Papaye, Blue Skies, Accra Mall, Frankies Hotel, Indomie, 4GS, AMS, Melcom, Garmin, ddp, Beautiful Beneath, Emirates, Ghana Police and GNFS.
Professor Azumah Nelson Tic, a popular musician and Dr. Vannesa Atukpui, Naa Ashokor, representatives of the Mayor of Accra, Hon Mohammed Adjei Sowah and some dignitaries like Mike Thakwani of B5 Plus and Mr. Tang Hong, President of the Chinese Ghana Chamber were the official starters.
By Sammy Heywood Okine