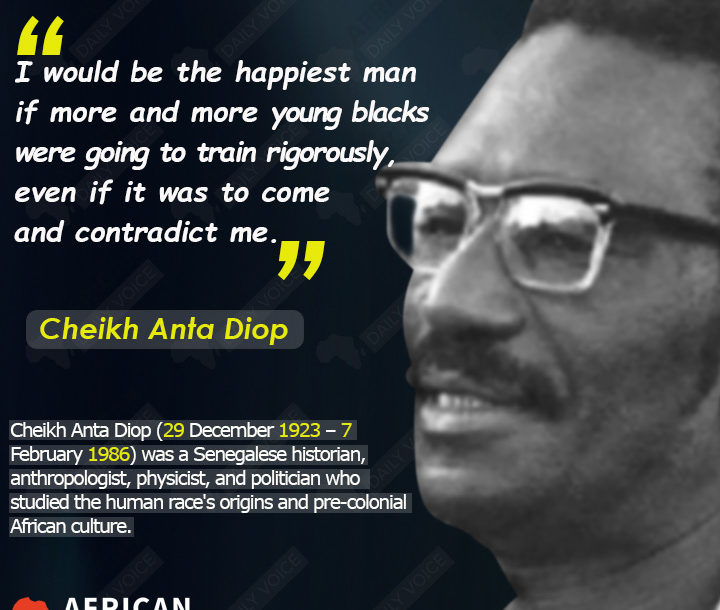 Cheikh Anta Diop (29 December 1923 – 7 February 1986) was a Senegalese historian, anthropologist, physicist, and politician who studied the human race's origins and pre-colonial African culture. However, Diopian thought, as it is called, is paradigmatic to Afrocentricity. His work was greatly controversial and throughout his career, Diop argued that there was a shared cultural continuity across African peoples that were more important than the varied development of different ethnic groups shown by differences among languages and cultures over time.
His first stages of education he was successfully and superiorly known for his strong defense of African civilization and its history through his numerous lectures and writings, which were characterized by scientificity and precision. He was also interested in studying archaeology in Africa and founded a specialized laboratory in this field. 
Cheikh Anta Diop. Photo : RR
In addition to being a seasoned politician and loyal patriot, he has contributed significantly and impressively to the establishment of several political blocs in Senegal, like "the National Front" and "the National Democratic Rally". He was a very strong contender then for the Senegalese president (Leopold Cedar)
He received a traditional religious education in Senegal and then moved to the University of Paris to study physics, but was preoccupied with historical studies to respond to the two centuries of European lies that deny blacks any contributions to human civilization even though they are the founding fathers.

Diop's work has posed important questions about the cultural bias inherent in scientific research. Cheikh Anta Diop University (formerly known as the University of Dakar), in Dakar, Senegal, is named after him. Some Diop works have been criticized as revisionist and pseudo-historical.
Source: © Bur-csa – A.H / S.E – African Daily Voice (ADV)