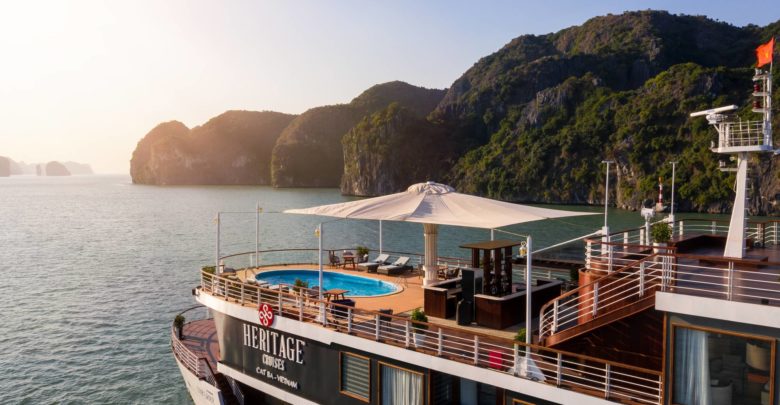 It is common knowledge that a different angle can make things shine in a completely new light. This is definitely the case when it comes to exploring various countries and cultures. In addition to long walks, thrilling car rides and perhaps some aerial fun, adventurous and curious travelers are encouraged to embark on a magical voyage along the Red River and the Gulf of Tonkin with Heritage Cruises Binh Chuan Cat Ba Archipelago — this year's winner of Luxury Lifestyle Awards in the category of The Best Luxury Private Cruises in Vietnam.
The concept and design of Heritage Cruises Binh Chuan Cat Ba Archipelago were inspired by a Vietnamese patriotic entrepreneur Bach Thai Buoi, who was known as the "King of Cruise Ships" in the early 20th century. The company's dedication to boutique cruising means that travelers will get the ultimate attention, privacy, top-notch services and an ultra-personal experience out of their trip. The cruise ship has only 20 suites, and all of them are 100% luxurious. Guests can choose among three suite types: Delta, Ocean, and Heritage. Each room is charmingly lavish and promises a gorgeous view during the journey.
Heritage Cruises Binh Chuan Cat Ba Archipelago offer a variety of trip options, from a 1-day to the 4-days cruise. Whether the guests choose to embark on the Heritage Discover or the Heritage Expedition, a thrilling journey is waiting for them, with magnificent sceneries to capture and unique places to explore. Lakes, villages, islets, caves, ports and bays — all these prove that Vietnam does have it all.
What's a boutique cruise without world-class services, comfort and relaxation? The Heritage Cruises ship offers versatile and exquisite dining options: Bach Dang Wine Cellar that has the right bottle for every occasion; Le Tonkin restaurant, where romance will thrive or important matters can be discussed; L'Indochine restaurant that helps to learn more about Vietnam through its cuisine; pool bar — because no cruise would be fun without it, and, of course, lounges inside and outdoors.  
Heritage Cruises Binh Chuan Cat Ba Archipelago is not a place to be bored: the ship is equipped with numerous wellness and entertainment facilities. Voyagers have an opportunity to keep fit during their cruise at an air-conditioned gym, relax at the lavish White Lotus Spa, or enjoy a good book in the most exquisite floating library in Vietnam. LLA's experts were stunned by its rich collection of books on such subjects as arts, culture, architecture, literature, travel and the 1930s French Indochina. The library also boasts works about the Heritage Cruises' inspirational entrepreneur, Bach Thai Buoi, as well as the exclusive Red River Memories, Bao Dai Best-Kept Secrets, and The Picasso of Vietnam, written by the cruise owner, Pham Ha.
Environmentally conscious tourists will also appreciate the fact, that Heritage Cruises is a responsible cruise provider. The company's aim is to encourage socially responsible travel through education, and by reducing their carbon footprint. The latter is achieved by using sustainable materials, as well as new engines, in the ship's construction. In addition to this, the structure of the cruise ship is designed to maximize natural light and airflow, and to reduce the need for air conditioning. There are no plastic bags or bottles on the cruise (the travelers are provided with reusable ones). Every month, the team cleans trekking trails, aiming to keep the area clean for generations to enjoy. After all, it is always better to purchase services from a company that gives back to the community and cares about the environment, isn't it?
About Luxury Lifestyle Awards
Luxury Lifestyle Awards is a global award selecting, recognizing, celebrating and promoting the best luxury goods and services all over the world.
The goal of the company is to connect people with the best of luxury. LLA has evaluated more than 10 000 various goods and services in 400 categories from 60 countries and analyzed the results to give you a TOP list of the best of the best in the world. Such world-renowned brands as Chanel, Dom Perignon, and Ferrari were proudly named winners. The victory brings companies status and recognition, global promotion and exposure to an entirely new market of customers.
For more information, please visit: https://luxurylifestyleawards.com/