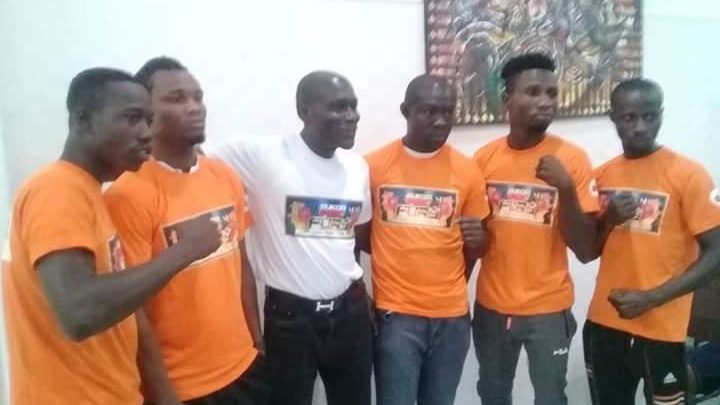 Sammy Anim Addo, a top executive of Baby Jet Boxing Promotions has disclosed that his outfit has learnt a lot since they started managing boxers and doing promotions.
  Sammy Anim Addo, a top executive of Baby Jet Boxing Promotions
Speaking at the M J Grand Hotel where he introduced their newly signed on 18 year old hardworking John Laryea, who trains at the Bronx Gym under Coach Carl Lokko.
Anim Addo who is a former SRC president of GIMPA said he has learnt a lot by observing and moving with experience promoters and raw boxing people like Solomon Otoo aka Mangola and Alex Ntiamoah Boakye of Box Office Promotions.
He hinted that Baby Jet Promotions owned by Asamoah Gyan, the Black Stars skipper has opened its doors to support and sign on other up coming disciplined boxers.
Throwing his weight behind the Bukom Fist of Fury Boxing League and Pro Fight Nights, he commended Moses Foh Amoaning, the marketing / legal consultant and his team from the Ghana Boxing Authority (GBA), Ghana Boxing Federation (GBF) and the Trust Sports Emporium Ltd. (TSEL).
Sammy Anim Addo promised to support the Boxing League to make it a success and encouraged boxers not to allow themselves to be used by managers who go outside to lose matches for insignificant sums of money.
He revealed that boxing has taken over in Ghana as the leading sporting activity and hoped that corporate Ghana would sponsor the Bukom Fist of Fury Boxing League.
Mr. Yoofi Boham, a veteran boxing manager supported Anim Addo's call for boxers to go out and win to give themselves and the nation glory and honour, than shame.
He noted that Ghanaian boxers are highly respected, so a few people can not tarnish the image and respect of the nation.
Meanwhile, Moses Foh Amoaning has promised to reward best boxers in the Bukom Fist of Fury Boxing League with quality mobile phones from Hisense and Techno.
He advised the boxers and their coaches to be time conscious and report for bouts on time.
The third in the series of the Fist of Fury Fight Nights comes off on Friday at the Bukom Boxing Arena with some interesting fights such as George Ashie aka 'Red Tiger' against Korley Collison, Ben Ankrah aka 'Congo Soldier' facing Felix Ajom aka 'Alvaro' for the Professional Boxing Council (PBC) Ghana and West African title, Isaac Nettey versus Richmond Commey for the national featherweight title and the new kid on the block, John Laryea meeting an opponent from outside Ghana.
By Sammy Heywood Okine