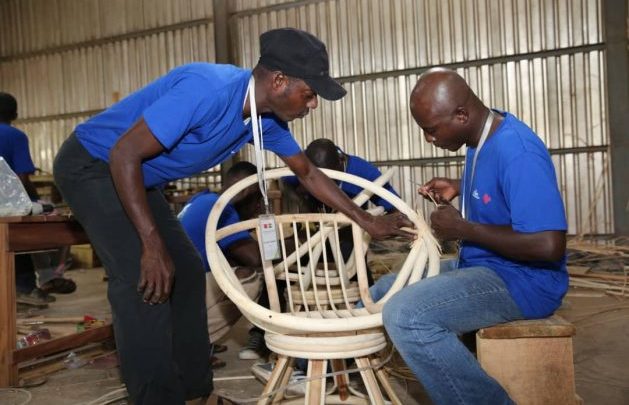 Yaw Owiredu Mintah from Ghana has been working as an all-round processor of bamboo and rattan trees since the 1980s. And while he says that he can do most things with bamboo like weaving, framing and finishing, he admits, "I need to improve my skills and designs because all of us are, most of the time, doing the same things."
"That is why I am happy this training is taking place," Mintah tells IPS.
Mintah is among the 100 local artisans selected to benefit from a 30-day skills development training in bamboo and rattan processing in Ejisu a suburb of Kumasi, the capital of Ashanti Region, Ghana.
According to research, Ghana has lost over 60 percent of its forests from 1950 to 2000. Since 2000, it has had a deforestation rate of three percent. A report by Millennium Cities Initiative (MCI), a past project of the Earth Institute, Columbia University, shows that the general depletion of forests has led to the reduced production of wooden furniture and reduced exports of plywood and flooring. However, the report noted, as bamboo grows in the wild in Ghana, there could be a market for bamboo furniture, plywood and flooring and other products generally manufactured from timber.
Bamboo and rattan trees have been identified as important commodities in the country. The processing of this – from raw material to finishing — employs thousands of people across the country.
Under tree canopies along Ghana's major streets, you will find local artisans selling mostly baskets and furniture made from bamboo and rattan.
But many of these local artisans use outdated technology, which results in lower quality designs and less durable products. And this subsequently results in lower income.
Thus industrial manufacturing techniques like those being taught at the workshop Mintah is attending will equip artisans, over the course of a month, to produce a wide range of long-lasting, strong and inexpensive goods produced from bamboo and rattan. In turn this can contribute to long-term poverty alleviation and socio-economic development.
"I have learnt a lot of things that would improve my work when I leave here and go back to my place of work," Mintah says.
Participants from all parts of the country, including two women from the Greater Accra Region, are currently involved in the transfer of knowledge and ideas from 7 technical trainers, 5 translators and 2 administrative support staff from the International Centre for Bamboo and Rattan (ICBR) headquartered in China.
China-Ghana Cooperation
This training follows a request made by Ghana's government to the Government of China under its South-South bilateral Cooperation Agreements. These agreements support the capacity building of people whose livelihoods depended on bamboo and rattan in this West African nation.
The Chinese government accepted the request and through the overseas training outfit of ICBR, the International Bamboo and Rattan Organisation (INBAR), began work in collaboration with the Bamboo and Rattan Development Programme (BARADEP). BARADEP is an initiative in Ghana's Ministry of Lands and Natural Resources.
The participants are leaning how to combine about 10 different designs through the use of innovation as well as the use of simple but effective tools to perfect the finishing of the bamboo and rattan products. The training began on Oct. 15, at the Forestry commission's technical centre in Ejisu.
Dai Honghai, Director of the Foreign Aid Programme from ICBR, tells IPS that the training sessions has impacted greatly on the participants' raw material handling, creativity and innovation and their application of tools to improve and enhance product processing and finishing.
"It is expected that this training will impact the market and marketing of the bamboo and rattan products to meet both local and international market and standard," he says. "We have been here for three weeks and it is going well."
Honghai says the participants are already mastering the use of the tools and are already making products.
"You can see the products, all together 150 products like bamboo flower stands, chairs and tables, rattan chairs and coffee tables are been made from bamboo rattan and wood materials for exhibition at the end of the training next week.
"We try to combine all the materials locally to make the product so that after we return to China they can still use the local material," Honghai says to IPS. He adds that with the marketing strategy session that would be held within the final week of the workshop, participants will be equipped to properly market the bamboo and rattan products both locally and internationally.
Stephen Osafo Owusu, President of the National Association of Bamboo and Rattan Artisans of Ghana, and also a beneficiary of the training, wants the association's members to produce products that can access the international market. "We need more of such trainings so our members can make better bamboo and rattan products to sell locally and even export to the international market like the Chinese," he tells IPS.
Faustina Baffour Awuah, programmes manager from BARADEP, tells IPS the government of Ghana has a special interest in developing the bamboo and rattan industry and thereby improving the livelihoods of some 4,000 workers.
"We have been engaging them and we thought this will be a good programme for their skills development because with this they can create better products which will earn them better income and improve their lives," she says.
And indeed the project has long-term goals that will benefit the artisans. Michael Kwaku, Country Director of INBAR Ghana, tells IPS that the overall objective is to establish a bamboo and rattan facility and training centre in Accra. This will be set up by the government of Ghana with funding from China.
"We want them to have a common place where they can go and process their raw materials using these new tools. So once they have this training when the place is established they can go and use the modern tools at the facility to work and enhance their lives," he explains.
In the meantime Mintah is learning a lot.
"One thing I have learnt from this training so far is the application of the simple tools to have a perfect finishing. You know the beauty and worth of a product is in its finishing," Mintah says.
 By Jamila Akweley Okertchiri, ipsnews.net