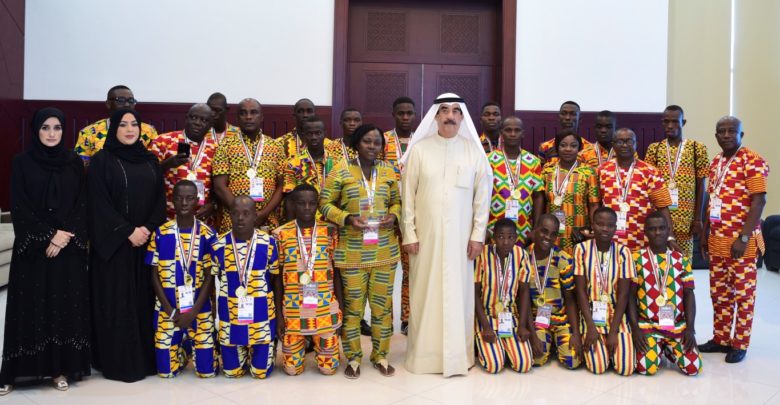 H.H. Sheikh Saud bin Rashid Al Mu'alla, Supreme Council Member and Ruler of Umm Al Qaiwain, yesterday received in Al Etihad Hall sporting delegations from Ghana and Uganda participating in the Special Olympics World Games, Abu Dhabi 2019.
Sheikh Saud welcomed both delegations, and wished them a good stay in Umm Al Qaiwain, as well as luck in the Special Olympics, which will be hosted by Abu Dhabi from 14th to 21st March, 2019.
He was also briefed about the key activities of the Umm Al Qaiwain Special Olympics Committee.
Sheikh Saud praised the efforts of the committee and its volunteers to welcome the delegations and provide them with comfort, while stressing that hosting the historic event is a major sporting achievement for the UAE.
The Umm Al Qaiwain Ruler honoured the delegations by giving them souvenir medals from the committee. The delegations also took commemorative photos with His Highness.
Major General Sheikh Rashid bin Ahmed Al Mu'alla, Commander-in-Chief of the Umm Al Qaiwain Police, highlighted the readiness of the police to secure the visit of sports delegations.
Aliaa Mohammed Al Ghafly, Chairperson of the Committee, stressed the keenness of the committee to ensure the success of the event and support of people of determination.

Mira Al Mehrezi, Head of the Committee, said that the 'Host City Programme' aims to empower people of determination by integrating them into the community and facilitating their participation in local activities.
Umm Al Quwain (UAQ) is the least populous of the seven constituent emirates in the United Arab Emirates, located in the north of the country. The emirate is ruled by Saud bin Rashid Al Mualla
wam.ae