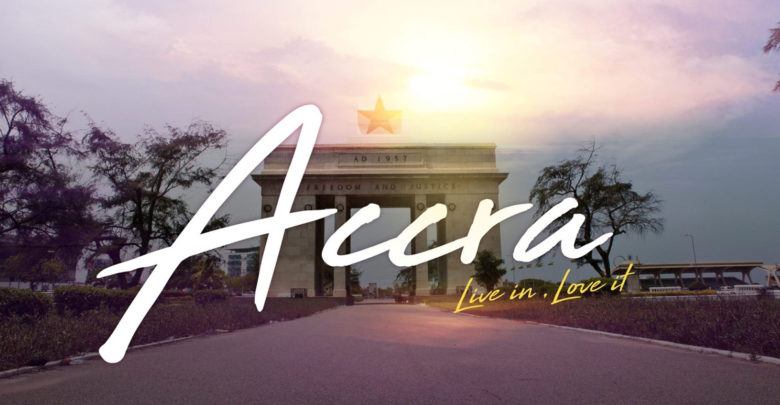 In many ways, Accra is what you'd imagine a growing West African capital to be. There's a CBD with towers owned by banks and swanky hotels, cheek-by-jowl with unmettled streets of dwellings made with corrugated iron roofs. There's colour, heat, people balancing baskets of produce on their heads as they walk on incomplete pavements, hawkers at traffic lights, and chaotic food markets. If you want items crafted out of wood, kente cloth, and to be confronted with your Northern wealth, you can have that experience if you'd like. But to do so would be to miss out.
 'We ran the festival to break down barriers, to engage people with a broader vision'
The main road into Jamestown, one of the oldest – and poorest – neighbourhoods in Accra, runs along the coast.

There's a striking lighthouse on the point at Ussher Fort, and the walls of buildings erected in colonial style in the slave-trading years of the 1800s are covered in brightly painted murals and graffiti. Along this stretch is the JamesTown Cafe, restored by its architect owner as a cafe and a hub for creatives, hosting regular radio broadcasts, art exhibitions, and live music performances, as well as serving food and cocktails throughout the day and night. It's a bustling spot, and it's where renowned photographer Nii Obodai decided to establish the Nuku Photography Festival, Accra's first, last autumn.
'Jamestown is a complex place,' he says. 'It has a lot of history, but it's overwritten now by its urban density. It's not where your traditional artistic audience might be found. So we ran the festival there to break down barriers, to engage people with a broader vision.'
Obodai's photographs have been seen the world over, and he set up his collective Nuku Studio, and now the festival, to bring the eyes of the world to the images of Ghanaian photographers. 'It's important for us to try and imagine a much bigger picture than what we see in a place today. The future can only evolve through imagination.'
There are lots of people who have that. Ralph Benawin and Jay Gyebi are the entrepreneurs capitalising on Millennial Ghanaians' growing appetite for exploring food. Take a stroll along the capital's Oxford Street in the Osu district and you'll find red-red (a Ghanaian bean stew), kelewele (fried plantain), and grilled tilapia at places like Asanka Local and Chez Clarisse Mama Africa, jostling for attention against Chinese restaurants, Lebanese meze places, and even a three-storey-tall KFC. Benwin and Gyebi's pop-up street food stall and catering business (with a roaming soup kitchen-cum-food bank element) Mukase Chic brings modernised versions of traditional Ghanaian dishes to a growing middle class.
'There's a new generation in Ghana who are more experimental when it comes to food,' says Benawin, as he hands over a plate of deep-fried jollof balls, a mash-up of arancini and the famous west African dish. 'We're a generation of dare-to-dream people. Food, tech, finance, fashion – we're willing to risk it all, to say this is what I want to do, this is where my passion is and I'm going
 for it.'
'There's a new generation in Ghana who are more experimental when it comes to food'
It's this hunger and enthusiasm that makes Accra an appealing place for a business like Google, for example, which is opening its first AI research centre on the continent in the city. It's music to Eyram Tawia's ears. As founder of Leti Arts, a gaming business, he's had to build the skills base he needs – developers, musicians, artists – from scratch.
'I've been passionate about gaming since childhood,' he says 'But was always baffled why superheroes were mostly white and based in New York. I knew more about Nordic mythology than I did about African stories. We want to use games to tell the story of our continent.'
The scale of his ambition is not small. He's not interested in growing his own business; he wants to launch the industry across the continent, and has created a platform called AfroComics where artists, filmmakers and musicians can share their work. 'Otherwise it just languishes on Instagram,' he says. 'The giants – Microsoft, Google and so on – are coming in, and we want to build local, collaborative content on top of that framework. We're trying to create a vibrant industry that creates a new narrative for Africa.'
Meanwhile the Artist's Alliance, a five storey art gallery at Labadi Beach, run by prolific Ghanaian artist Professor Ablade Glover, and other spaces in the city like the Nubuke Foundation and Gallery 1957 are curating and displaying the incredible breadth of Ghanaian art already in existence and showcasing new, young artists.
'It's not as though there's never been African art,' says Gallery 1957's manager Victoria Cooke, 'It's just that it's never been written or spoken about.' There is no national gallery or state-supported art space in the capital, and so private galleries like these are opening to fill the gap.
'It's not as though there's never been African art. It's just never been written about'
One of the most striking artists in Gallery 1957's impressive collection is Serge Attukwei Clottey, who takes the ubiquitous yellow plastic oil gallons that litter the streets of the city and turns them into beautiful tapestry-like works. Cooke believes seeing his work in context makes it all the more powerful. 'When I take Serge's work to Dubai his pieces look beautiful, but when I see them here in Accra, they make me think about what I see here everyday, and the impact of plastic and oil on the environment here.'This is the thread that runs through Accra's enterprising creatives. Their efforts are not merely for themselves, but for the transformation and revelation of their home city. There's no doubt there are visible challenges, but through art, food, tech and with a lot of imagination and hope, Ghanaians want to show the world there's so much more than the stereotype to discover.
Where to stay
Part of a growing business complex, the Kempinski Gold Coast in Accra opened in 2015. It's a modern five star hotel close to the National Theatre. Rooms range from the 148 Deluxe Rooms, through 97 Executive Rooms, up to the 24 suites, which include two Presidential Suites with separate entrances. The hotel has a brasserie with an à la carte menu, a garden restaurant serving Lebanese mezze, the Gallery bar, and Lobby Lounge, where afternoon tea is served every day.
Gallery 1957 sits within the hotel, with additional exhibition spaces across the road in the Gold Coast City mall. A new spa, the largest in West Africa, adjacent to the hotel opens this year, with separate male and female wellness areas, hammam, ten treatment rooms, hair and beauty salon, health club, yoga studios, organic food bar and indoor swimming pool. However, the outdoor pool (which is open to non-guests) is the pièce de résistance – by far one of the best in the city.
By Johanna Derry, thejackalmagazine.com