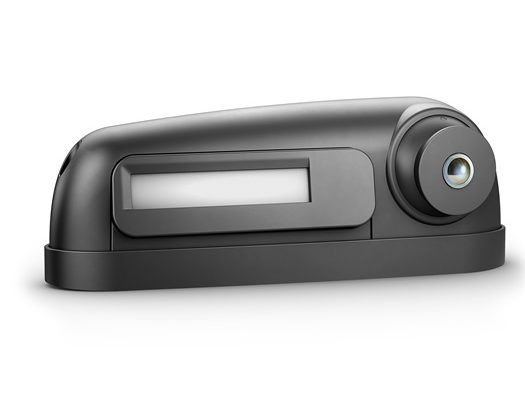 Dometic launches new intelligent turn assistant system to support the fight against fatal blind spot accidents. The new Dometic CAM1000 blind spot camera reliably distinguishes pedestrians and cyclists from irrelevant objects like traffic light poles. The system fully complies with the new legal requirements in Germany.
The number of cyclists hurt or killed on roads in blind spot accidents is constantly increasing. To stop this alarming trend, German legal authorities have redefined the technical requirements for vehicles and have launched an incentive program.
To support such initiatives, save lives on roads, and meet the new legal requirements, Dometic has developed a smart and easy-to-install turn assistant system.
The new Dometic CAM1000 blind spot camera is designed to quickly get the attention of the driver who is increasingly overwhelmed by an overdose of alarms and warning signals from their vehicle's control panel.
EMPOWERED BY AI
To avoid becoming irrelevant for drivers, The CAM1000 only warns in cases of truly relevant dangers. The turn assistant camera reliably distinguishes cyclists and pedestrians from standing objects like traffic light poles and lamp posts using intelligent image processing software. This minimises the risk of false alarms. When the system alarms, the driver knows that there truly is a danger of collision in the blind spot.
Conceived as a universal solution, the CAM1000 can be used on almost any commercial vehicle and fits perfectly to the Dometic 2019 monitor series. Integrated infra-red LEDs guarantee a good image quality even at night time.
NO HASSLE IN INSTALLATION
Dometic has brought innovation in installation, as well. Unlike with many systems in the market, the installation of CAM1000 requires little time and effort. All components (including the GPS sensor, the infra-red LEDs and the control board) are integrated in the compact camera housing. It only needs to be connected to the power supply and there's no need to tap any additional vehicle systems, and no need for repeated calibration. Distance marks displayed on the monitor facilitate the alignment of the camera during start-up. In most cases, existing monitors can be reused.
FULLY COMPLIES WITH NEW LEGAL REQUIREMENT
In November 2018 the German Federal Ministry of Transport and Digital Infrastructure released a recommendation that redefines the technical requirements on suitable solutions for the prevention of blind spot accidents with a subsidy of EUR 1500 per utility vehicle.
After extensive field tests, Dometic CAM1000 has successfully passed all inspections and is eligible for the government subsidies in Germany.
Dometic's new turn assistant Demetic CAM1000 will be introduced to the market around the end of January or early in February 2020.
About Dometic
Dometic is a global market leader in branded solutions for mobile living in the areas of Food & Beverage, Climate, Power & Control, Safety & Security and Hygiene & Sanitation. Dometic operates in the Americas, EMEA and Asia Pacific, providing products for use in recreational vehicles, trucks and premium cars, pleasure and workboats, and for a variety of other uses. Our motivation is to create smart and reliable products with outstanding design. We sell our products in approximately 100 countries and we have a global distribution and dealer network in place to serve the aftermarket. Dometic employs approximately 8,000 people worldwide, had net sales of more than SEK 18.0 billion (USD 2.0 billion) in 2018 and is headquartered in Stockholm, Sweden.
For more information on Dometic, please visit:  http://www.dometic.com.