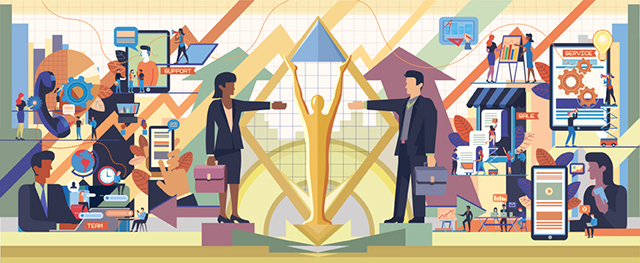 Finalists in the 14th Annual Stevie® Awards for Sales & Customer Service, an international competition recognizing excellence in disciplines that are crucial to business success, were announced today.
A diverse group of organizations and individuals around the world are among those recognized in the customer service awards, contact center awards, business development awards, and sales awards categories.
Organizations with five or more Finalist nominations include Achievers, Toronto, ON Canada; Allianz Global Assistance, Richmond, VA USA; Bounteous, Chicago, IL USA; Carbonite, Inc., Boston, MA USA; Cinch Home Services, Inc., Boca Raton, FL USA; Clarabridge, Reston, VA USA; Concentrix, Fremont, CA USA; CoverMyMeds, Columbus, OH USA; Cvent Inc, McLean, VA USA; Dell Technologies, worldwide; Delta Vacations, Minot, ND USA; DenizBank Financial Service Group, Istanbul, Turkey; DHL Express Vietnam, Hanoi; DHL Express, Johannesburg, South Africa; Druva, Sunnyvale, CA USA; GoDaddy, Scottsdale, AZ USA; HomeServe USA, Norwalk, CT USA; IBM, worldwide; John Hancock Financial Services, Boston, MA USA; Mailchimp, Atlanta, GA USA; NCR Corporation, Atlanta, GA USA; RAIN Group, Boston, MA USA; Sales Partnerships, Inc., Broomfield, CO USA; Spinnaker Support, Greenwood Village, CO USA; Sun Basket, San Jose, CA USA; TTEC, Englewood, CO USA; UPMC Health Plan, Pittsburgh, PA USA; VXI Global Solutions, Los Angeles, CA USA; Wells Fargo Treasury Management Client Delivery, San Francisco, CA USA; and WNS (Holdings) Limited, Mumbai, India.
Visit http://www.StevieAwards.com/Sales for a full list of Finalists by category.
Gold, Silver, and Bronze Stevie Award placements from among the Finalists will be revealed during a gala banquet on Friday, February 28 at Caesars Palace in Las Vegas, Nevada. Tickets are now on sale.
The awards are presented by the Stevie Awards, which organizes eight of the world's leading business awards shows, including the prestigious International Business Awards® and American Business Awards®, and the Women|Future Conference.
More than 2,600 nominations from organizations of all sizes, in virtually every industry, in 48 nations were evaluated in this year's competition. Finalists were determined by the average scores of more than 180 professionals worldwide in seven specialized judging committees. Entries were considered in more than 90 categories for customer service and contact center achievements, including Contact Center of the Year, Award for Innovation in Customer Service, and Customer Service Department of the Year; more than 60 categories for sales and business development achievements, ranging from Senior Sales Executive of the Year to Sales Training or Business Development Executive of the Year to Sales Department of the Year; and categories to recognize new products and services and solution providers.
Beginning today through February 14, the general public may vote for their favorite providers of customer service in the People's Choice Stevie® Awards for Favorite Customer Service. Voting is open at http://peopleschoice.stevieawards.com. Winners of the People's Choice Stevie Awards in multiple industries will be determined in mid-February and honored at the awards gala in Las Vegas on February 28.
About The Stevie Awards
Stevie Awards are conferred in eight programs: the Asia-Pacific Stevie Awards, the German Stevie Awards, the Middle East Stevie Awards, The American Business Awards®, The International Business Awards®, the Stevie Awards for Great Employers, the Stevie Awards for Women in Business, and the Stevie Awards for Sales & Customer Service. Stevie Awards competitions receive more than 12,000 entries each year from organizations in more than 70 nations. Honoring organizations of all types and sizes and the people behind them, the Stevies recognize outstanding performances in the workplace worldwide. Learn more about the Stevie Awards at http://www.StevieAwards.com.
Sponsors of the 14th annual Stevie Awards for Sales & Customer Service include HCL Technologies, Sales Partnerships, Inc., and ValueSelling Associates, Inc.