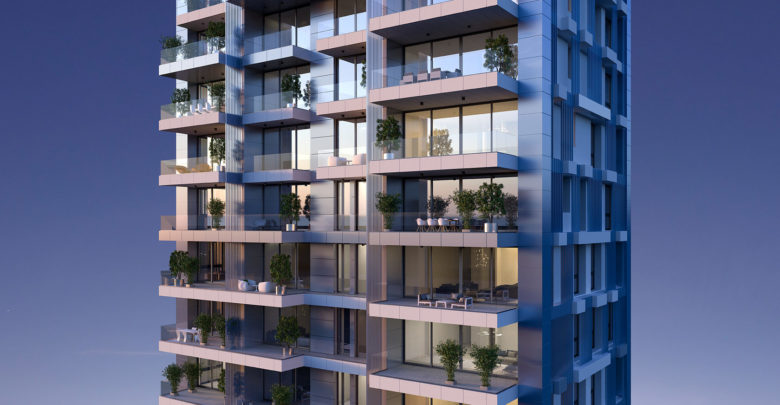 Living in Cyprus comes pretty close to the definition of paradise by itself — a great climate, friendly people, delicious local cuisine and gorgeous views make for a happy mood all year round. However, owning an apartment in a complex that is the embodiment of luxury, convenience, innovation and style will make it all oh so much better. The renowned experts of Luxury Lifestyle Awards can proudly recommend MARR Tower by MARR Group, this year's winner in the category of The Best Luxury Real Estates in Limassol, Cyrus.
Located only 250 meters from the sea, with nothing to block the spectacular view ever in the future, MARR Tower is one of the most exciting projects of MARR Group. This elegant, iconic building, resting upon a beautifully sculptured podium, is the epitome of innovative vision and brilliant interpretation. Some of the world's best professionals were able to combine dramatic architecture, sophisticated interior design, exclusive lifestyle infrastructure and premium level services in this 110-meter-high masterpiece, situated in one of the most ravishing places of Limassol.
MARR Tower's lucky residents will enjoy unparalleled comfort in each of the 65 available apartments, as well as 10 000 sq. m. of enclosed landscaped grounds with a eucalyptus garden and two swimming pools — a cozy one for kids and a large panoramic one for adults. The amazing outdoor terrace also features a luxurious relaxation area and an open-air bar. Moreover, living in MARR Tower means benefiting from 24/7 video surveillance and entrance security, a 24-hour concierge service, a premium fitness club, a lavish Spa & Wellness center, a full-size tennis court and more.
"We at MARR Group couldn't be more proud of our MARR Tower project and the way it creates a comfortable, lavish and stylish home for the residents. We love creating spaces where people can enjoy a happy life with all the latest innovative conveniences. That is why being recognized by the eminent experts of Luxury Lifestyle Awards means so much to us. This victory helps us celebrate this project and start planning for the new great ones ahead," states Marat Safin, CEO.
MARR Tower's location provides convenient access not only to a sandy Blue Flag beach, boasting numerous summertime water activities, but also to versatile restaurants, cafes, boutiques and high-end designer shops. LLA's experts are also excited to point out that the prospect of obtaining EU citizenship for the whole family is another great benefit of owning property in MARR Tower.
About Luxury Lifestyle Awards
Luxury Lifestyle Awards is a global award selecting, recognizing, celebrating and promoting the best luxury goods and services all over the world.
The goal of the company is to connect people with the best of luxury. LLA has evaluated more than 10 000 various goods and services in 400 categories from 60 countries and analyzed the results to give you a TOP list of the best of the best in the world. Such world-renowned brands as Chanel, Dom Perignon, and Ferrari were proudly named winners. The victory brings companies status and recognition, global promotion and exposure to an entirely new market of customers.
For more information, please visit: https://luxurylifestyleawards.com/