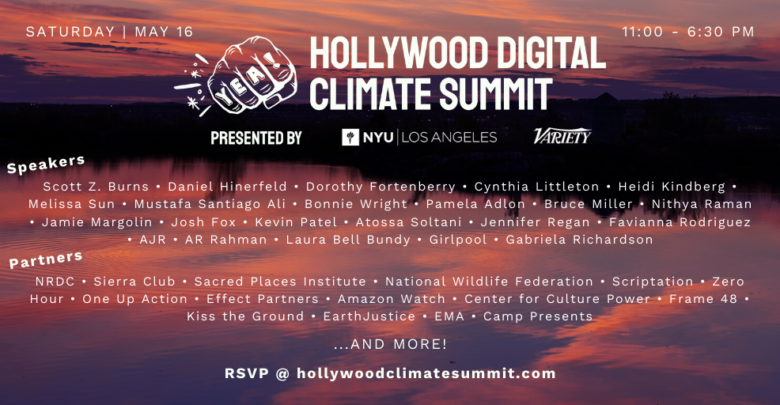 The event will feature actor and activist Bonnie Wright, writer-producer Scott Z. Burns (The Report, Contagion, An Inconvenient Truth), showrunner Bruce Miller (The Handmaid's Tale), and climate activist Jamie Margolin (Zero Hour).
The first of its kind, the Hollywood Digital Climate Summit is a day-long virtual event for young entertainment professionals and students. It explores Hollywood's role in building a sustainable, green future, featuring panelists and guests from the industry, presented by the entertainment industry's hub for activism, YEA! (Young Entertainment Activists) along with NYU Los Angeles, and the official media partner, Variety.
The summit is designed to educate and empower attendees on using art and media to help curb the harmful effects of climate change. It takes place on Saturday, May 16 from 11 a.m. to 6:30 p.m. PDT, beginning with a keynote address with writer/director/producer Scott Z. Burns (The Report, Contagion, An Inconvenient Truth) in conversation with writer/producer Dorothy Fortenberry (The Handmaid's Tale, The 100). The featured panel "Producing a Greener Hollywood" will explore how Hollywood has mobilized around climate change with executives from HBO, Sierra Club, and the National Wildlife Federation, followed by three blocks of hour-long workshops. 
Workshop topics include sustainable storytelling, the future of live events, documenting the crisis, and a look at the ecological crisis through a racial justice lens.
Tickets are donation-based and can be purchased at https://www.hollywoodclimatesummit.com.
The virtual event's featured panelists and guests include actor and activist Bonnie Wright, showrunner Bruce Miller (The Handmaid's Tale), HBO's director of sustainability Heidi Kindberg, and Sierra Club's director of entertainment partnerships Melissa Sun, and creator of Hands Across America and fund-raising singles We Are the World and the upcoming Hands Around the World, Ken Kragen.
"We also know that despite our everyday world being on hold, the climate crisis is not. We want to provide this young and growing community what courses of action they can take right now to help," shared YEA! Executive Director and Co-founder Allison Begalman.
"As a storyteller, I believe in the power of narrative to shift the cultural conversation. As an educator, I believe in equipping our media, entertainment and tech students with the tools to do just that. Because the stories that come out of Hollywood are so influential globally, there is also heightened universal interest in what goes on behind the scenes. The Summit will impact not only what stories we tell, but also how those stories are made, all at a point in time where I'm hopeful we will see a paradigm shift in our collective approach to sustainability," said Nina Sadowsky, director of NYU Los Angeles.
The event will close with performances from musicians and activists including Laura Bell Bundy, Girlpool, Gabriela Richardson, Luna Li, and Oscar-winning composer A.R. Rahman.
Partners of the event include Sierra Club, NYU Green, Rainforest Action Network, Amazon Watch, Zero Hour, Act.TV, Environmental Media Association, Center for Cultural Power, and the Junior Hollywood Radio & Television Society (JHRTS).
ABOUT YEA!
YEA! is a nonprofit that believes every person has the power to create social impact through their work. Founded by a cohort of young Hollywood professionals,YEA! creates culture change programming for current and aspiring Hollywood leaders to inspire activism they can do within their jobs/everyday lives. Through the climate summit and their other events, they have created dozens of paid jobs for rising Hollywood talent, united by a mission for good. The YEA! team's main focus is YEA! Impact: its consultancy that produces impact events, campaigns, and content for film/tv/apps, influencers, nonprofits, brands, and companies. 
About NYU Los Angeles
NYU Los Angeles, a new type of study away experience for undergraduates, opened in fall 2019. Developed by faculty from Tisch, Stern, Gallatin, Steinhardt and Abu Dhabi, the interdisciplinary program provides an opportunity for students who seek careers in the entertainment and media industries to be immersed in LA's artistic and business communities through hands-on experiences, while taking a full NYU courseload and continuing to progress toward their degrees. The program is based in the Fairfax/La Brea media neighborhood, with an academic center that includes two classrooms, a seminar room, and a small event space.
For more information on the summit and for ticket information, visit: https://www.hollywoodclimatesummit.com/ 
For more information on YEA!, visit: https://youngentertainmentactivists.com/
For more information on NYU-LA, visit: https://www.nyu.edu/los-angeles.html