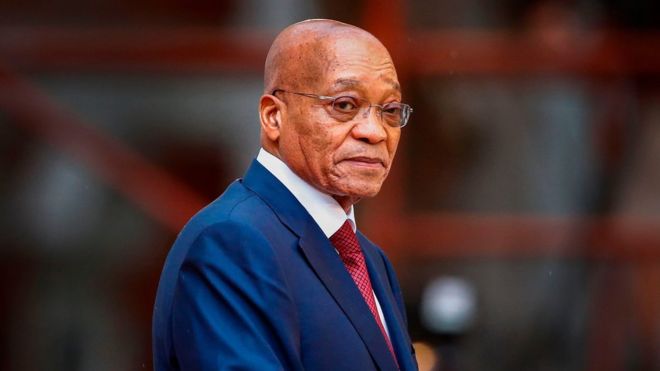 South Africa's governing African National Congress (ANC) has formally asked President Jacob Zuma to resign for the sake of the country.
But despite the ANC's top leadership deciding to "recall" him "urgently", the scandal-hit Mr Zuma was still in power on Tuesday.
He is expected to respond to the request on Wednesday, an official said.
He had already told them he was willing to stand down in the next three to six months, the official added.
Mr Zuma, who has been in power since 2009, has been dogged by corruption allegations.
But he has so far resisted increasing pressure to quit since December, when Cyril Ramaphosa replaced him as leader of the ANC.
'No guillotine'
Ace Magashule, the ANC's secretary-general, told reporters the party's National Executive Committee (NEC) decided the removal should be "treated with urgency".
"The NEC has noted South Africa is going through a period of uncertainty and anxiety as a result of unresolved matter of transition," he said.
Mr Magashule said the country needed to build on the "renewed hope" felt after the election of Mr Ramaphosa as ANC leader.
"It is obvious we want Comrade Ramaphosa to come in as the president of South Africa," he added.
He said the president was expected to respond to the NEC's decision on Wednesday, although they had given him no deadline.
"When we recall our deployee, we expect our deployee to do as asked," Mr Magashule said.
ANC NEC member Lindiwe Zulu told the BBC the party will give Mr Zuma an opportunity to respond to its request.
"There is no guillotine here. He is a comrade," she said.
South Africa's opposition parties have already expressed reservations about the ANC's confidence that Mr Zuma will step down.
"The only way to remove Jacob Zuma as president of our country is for parliament to do so through a motion of no confidence," the Democratic Alliance (DA) tweeted.
It called the motion brought by another opposition party, the Economic Freedom Fighters (EFF), to be brought forward from 22 February so parliament can "remove Jacob Zuma".
---
Analysis: Going, going…. gone?
By Lebo Diskeo, BBC News, Johannesburg
Although it was hardly an unexpected announcement, there was still a sense of disbelief among the waiting journalists as Mr Magashule announced the NEC has asked Mr Zuma to step down.
After such a long wait, we had half expected the ANC to say they had given him more time, or reached some sort of compromise.
But surprise gave way to bemusement as Mr Magashule side-stepped repeated requests for clarification on what the ANC will do if President Zuma refuses to resign by Wednesday.
As for whether the ANC would support an opposition motion of no confidence, Mr Magashule said he did not know.
But when asked what Mr Zuma said when he was told of the NEC's decision, Mr Magashule choice of words were pointed: the president had said he was "a disciplined member of the ANC".
It was a term repeated several times during the briefing.
In other words, as far as the ANC is concerned – it is done.
---
What has Mr Zuma done wrong?
Mr Zuma's presidency has been overshadowed by allegations of corruption which he has always vehemently denied.
In 2016, South Africa's highest court ruled that Mr Zuma had violated the constitution when he failed to repay government money spent on his private home.
Last year the Supreme Court of Appeal ruled that he must face 18 counts of corruption, fraud, racketeering and money-laundering relating to a 1999 arms deal.
More recently, Mr Zuma's links to the wealthy India-born Gupta family, who are alleged to have influenced the government, have caused his popularity to plummet.
Both Mr Zuma and the Guptas deny the allegations.
Is Mr Zuma legally obliged to quit?
The formal request to resign is difficult to resist, but he is not legally obliged to do so and could technically carry on as president despite losing the support of his party.
However, should he continue to defy his party, he would be expected to face a confidence vote in parliament. Mr Zuma has survived other such votes but he is not expected to pull it off again. A confidence vote would be considered a humiliating process for him and the party.
In terms of the constitution, it will require the entire cabinet to resign and for the parliamentary speaker to serve as acting president until MPs elect a new president.
Why is this happening now?
The ANC was badly rattled by its performance at the 2016 local elections when it won its lowest share of the vote since coming to power under the late Nelson Mandela in 1994.
It wants to project a fresh image for next year's general election. Having served two terms in office (South African presidents are elected by parliament), Mr Zuma cannot legally return to power in any case.
On Monday, opposition parties called for an early election.
"Anyone from the ANC that wants to lead this country, must get their mandate from the people of South Africa," DA leader Mmusi Maimane told reporters.
BBC