Theme: Sustainable (green) sports
By James K. Attaglo Wilson
Ghanaian Journalist and Sustainability Editor, Mr. Dela Ahiawor has called on major sports governing bodies in Africa to take proactive steps to join the UN Sports for Climate Action Framework. So far, just a handful of minnow sports organizations in Africa have signed up as participants of the initiative.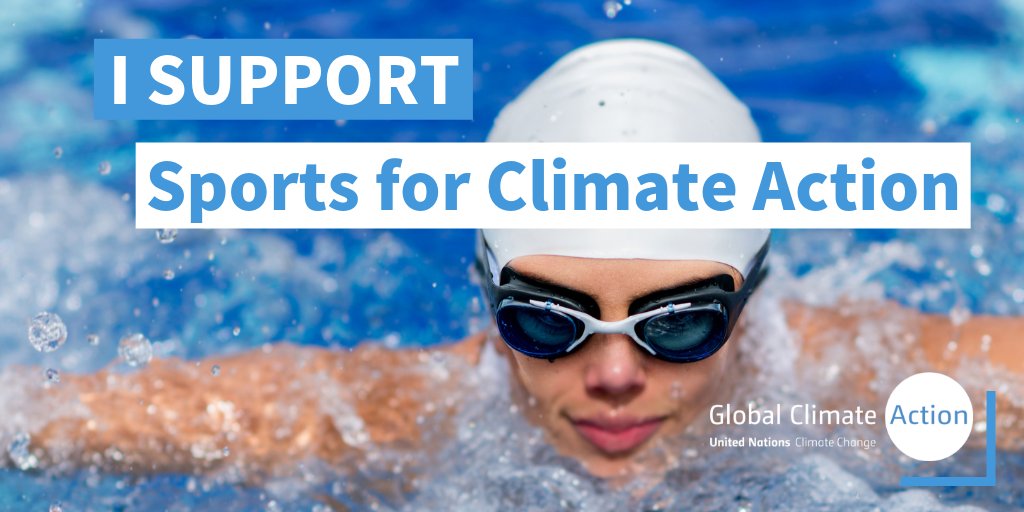 They are : Botswana's Palapye All Stars Football Club, Kick4life in Lesotho, Whizzkids United Football Club in South Africa, Rivergrass United FC in Botswana and the 'Burundi Rugby League-Rugby A XIII'. Twenty one (21) months after it was unveiled in December 2018, the UN Sports for Climate Action Framework has garnered 144 signatories across the globe at the time of publishing this article.
In an interview with (delreport.com) Mr. Dela Ahiawor, who has carved out a niche, reporting and advocating sustainable (green) sports in Africa said : "African sports federations, leagues, teams, clubs, sports events, sports venues, fans and all stakeholders are crucial to achieving the global climate change goals. Fact is, attaching environmental messages to sports has the potential to inspire positive behavioural change among sports fans."
He emphasized that the Confederation of African Football (CAF), African Games (formally All African Games) and the Association of African Sports Confederations must lead the way for others to follow. Mr. Ahiawor elaborated that: "Football's huge following in Africa will help in spreading the sustainability message. This is the reason why CAF and its member associations must sign the initiative, to join forces with the global sports community to influence a positive behavioural change among fans to address the Climate menace."
He also tasked African sports media organizations like, SuperSport to join the initiative to help educate and advocate for climate action in Africa.
"Curbing climate change, working towards achieving the SDGs, protecting the environment and leaving positive legacies should be the grand aim of sports governing bodies in Africa." Mr. Ahiawor intimated.
In conclusion, he said : "climate change will have adverse effect on Global sports in the coming years, so African sports organizations must endeavor to raise awareness towards achieving the goals of the Paris Agreement."
*
The Sports for Climate Action Framework
*
The Sports for Climate Action initiative aims to provide sports organizations with a forum where organizations can pursue climate action in a consistent and mutually supportive fashion by learning from each other, disseminating good practices, lessons learned, developing new tools, and collaborating on areas of mutual interest.
The initiative further aims at supporting and guiding sports actors in achieving climate change goals.
The United Nations Framework Convention on Climate Change, UNFCCC's Sports for Climate Action Framework was launched by the global sports community and UN Climate change at the COP24 Conference in Katowise, Poland in December 2018. The initiative seeks to bring sports organizations, fans, athletes and teams together to raise awareness and action to meet the goals of the Paris Agreement. The initiative further aims to drive emissions reduction in sports operations and tap the popularity and passion of sports to engage millions of fans.
To put it succinctly, the framework calls on the global sports community to develop a climate action agenda for sports, with the following five principles in mind.
*
The Five (5) Principles of the Sports for Climate Action Framework are:
*
1. Undertake systematic efforts to promote greater environmental responsibility.
2. Reduce overall climate impact.
3. Educate for Climate.
4. Promote sustainable and responsible consumption.
5. Advocate for Climate.
By signing the declaration sporting organizations support the goals of the Paris Agreement in reducing the global temperature rise to 1.5 Degree Celsius above pre-order industrial levels and also affirm their commitment to the aforementioned five (5) principles set out in the declaration.
*
About Dela Ahiawor
*
Mr. Dela Ahiawor is a Ghanaian journalist who is carving out a new editorial space in sustainable (green) sports. He is the Sustainability Editor at (delreport.com), focusing on curating, editing, reporting and advocating sustainability/climate related topics. He is particularly keen on promoting sustainable (green) sports in Africa.
Contacts: @DAhiawor, Email: deljason3000@yahoo.com
*
Current Signatories of the UN Sports for Climate Action Framework
*
1 Kyoto University Football Club
2 Kyoto University American Football Club Gangsters
3 The 2020 Tokyo Organising Committee of the Olympic and Paralympic Games
4 AC Fukushima United, Co, Ltd
5 Sano High School Rugby Club
6 Tohoku Ice Hockey Club Co., Ltd. (Free Blades)
7 Ventforet Yamanashi Sports Club Inc.
8 Kamakura International F.C
9 Brynäs IF
10 International Olympic Committee
11 Rugby League World Cup 2021
12 International Federation of Association Football (FIFA)
13 Formula E
14 World Surf League (WSL)
15 Union of European Football Associations (UEFA)
16 Fédération Française de Tennis, FFT
17 Hong Kong Rugby Union
18 Paris 2024
19 Electric Marathon International
20 World Sailing
21 New York Yankees
22 United World Wrestling
23 International Climbing and Mountaineering Federation (UIAA)
24 Bowls Australia Ltd.
25 International Triathlon Union (ITU)
26 AEG Cycling
Amgen Tour of California
27 Eisbären Berlin
28 LA Galaxy
29 LA Kings
30 Ontario Reign
31 University of Colorado Athletics Department (CUAD)
32 International Ice Hockey Federation
33 AEG Rugby
34 Beijing Organising Committee for the 2022 Olympic and Paralympic Winter Games (Beijing 2022)
35 World Taekwondo
36 United States Tennis Association (USTA)
37 National Basketball Association (NBA)
38 International Federation of Equestrian Sports (FEI)
39 United States SailGP Team
40 Great Britain SailGP Team
41 China SailGP Team
42 Australia SailGP Team
43 Japan SailGP Team
44 France SailGP Team
45 World Rugby
46 Golden State Warriors of the National Basketball Association
47 Erakor Golden Star Football Club
48 Minnesota Wild
49 Waste Management Phoenix Open
50 Team SCP Malizia
51 All England Lawn Tennis Club (Wimbledon)
52 Tennis Australia
53 Marine Corps Marathon Organization
54 Bank of America Chicago Marathon
55 Chicago Event Management
56 International SAMBO Federation (FIAS)
57 IMOCA
58 Chicks Climbing & Skiing
59 Hood To Coast Relay
60 Clube Atlético Tubarão SPE Ltda
61 World Rowing Federation FISA
62 Rhode Races & Events
63 International Rafting Federation
64 The Cowtown Marathon, Inc.
65 Melbourne Cricket Club
66 Grandma's Marathon-Duluth, Inc.
67 The Ocean Race
68 New York Road Runners (NYRR)
69 International Ski Federation (FIS)
70 Air Force Marathon
71 International Orienteering Federation (IOF)
72 Credit Union Cherry Blossom
73 Forest Green Rovers F.C
74 Youlden Parkville Cricket Club
75 International Golf Federation (IGF)
76 The Portland Timbers and Thorns FC
77 Richmond Football Club
78 Extreme E
79 The European Obstacle Sports Federation
80 Jordans Tennis Club
81 World OCR
82 Global Association of International Sports Federations
83 FEDERAÇÃO PORTUGUESA DE JUDO
84 Puerto Rico Soccer League
85 Federação de Campismo e Montanhismo de Portugal
86 Norddeutcher Regatta Verein
87 Sacramento Running Association
88 German Ski Instructors Association
89 Banff Marathon
90 World Masters Athletics Championships in Toronto
91 Biathlon Events Sweden
92 VfL Wolfsburg
93 Spanish Olympic Committee
94 Prada Cup
95 EPCR- Heiniken Champions Cup
96 Canada Games Council
97 International Paralympic Committee
98 International Floorball Federation
99 CSA SURF CANADA
100 International Skyrunning Federation
101 German Football Association (Deutscher Fußball-Bund)
102 FIA-federation internationale de l'automobile
103 Snowboarding Germany
104 Professional Squash Association – PSA
105 London Marathon Events Ltd
106 Birmingham 2022 Commonwealth Games
107 Canada Games Council
108 Fenix Experience
109 Federation Francaise de Rugby (France 2023)
110 Formula 1
111 International Fistball Association (IFA)
112 Flying Pig Marathon
113 NFL Green
114 German Ski Federation (Deutscher Skiverband)
115 Burundi Rugby League-Rugby A XIII
116 Hibernian Football Club
117 The Football Association England
118 The Sharks (London's Premier Wild Water Racing Club)
119 Royal Yachting Association
120 Gloucestershire Cricket
121 La Liga
122 New York Mets
123 Union Cycliste Internationale
124 Kick4Life
125 Palapye All Stars Football Club
P126 United States Golf Association
127 The Federation Internationale de Savate
128 OC Sport
129 Rivergrass United FC
130 International World Games Association (IWGA)
131 Sporting Clube de Portugal
132 International Biathlon Union
133 Loughborough University
134 International Basketball Federation (FIBA)
135 Global Association of Mixed Martial Arts (GAMMA)
136 Brazil Olympic Committee
137 WhizzKids United Football Club
138 Great Britain Outrigger Canoe Association
139 World Flying Disc Federation
140 Sky Sports
141 Sentosa Golf Club
142 World Archery Federation
143 International Judo Federation
144 National Olympic Committee and Sports Confederation of Denmark
Source of signatories: UN Climate Change
www.delreport.com