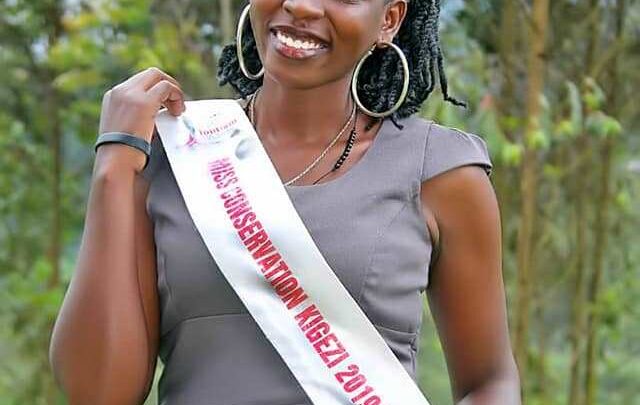 Asiimwe Mourine is a Ugandan practical climate activist and a MasterCard Foundation alumnus at Makerere University. She has been Miss Conservation Kigezi2019/20, Green Ambassador for Climate in Africa2020, Youth Planet Plastic Challenge Prize Winner2020 and the Kidepo Valley National Park Conservation Award Winner2018.
Mourine is the founder of Asiimwe Mourine Foundation a community Based Organization in Kabale, Uganda that empowers, inspires and engages women, and girls in practical problem solving skills ranging from environmental conservation to resourceful use of social media channels and poverty eradication.
She is the organizer "Plant A Tree Plant Hope Campaign" on a mission to plant 10 million indigenous and fruit trees in Uganda and the coordinator One World Tree Planting in Uganda.
PASSION
Everyone can and it's possible.
In solving a crisis like climate change, environmental degradation, which are real, I am unapologetic.
Strong passion to end this calls and I believe in achieving positive results when I reach out to local communities on ground, young generation, youths and practically engaging them in practices that will help to save our planet. Over the years, I have grown to love to care for mother earth. It's an urge to mitigate the effects of climate change with our actions.
PROBLEM
Our environment has been left helpless. Communities are no longer aware of what to do to protect the natural resources. There is massive cutting down of trees without replacement, we have lost most of the native tree species and biodiversity. Climate crisis is alarming. We are now experiencing prolonged dry spells, increase in temperature, heavy floods, landslides, soil erosion, low crop production and many are not caring about this. Such never used to be in years before and where we are heading  for the worst conditions if we don't act now.
SOLUTION.
As the organizer "Plant a Tree Plant Hope Campaign" I am planting 10 million indigenous and fruit trees in Uganda.
I am committed to fighting ecological crisis, restoratoration of Uganda's ecosystem through tree planting & spreading awareness through local community interaction revealing to them reality of climate change effects, training them on different ways of mitigation and adaption.
I have also trained young generation on simplest ways of upcycling plastics to make wall decoration materials, key holders, curtain wall and swigging ropes. This has helped to reduce plastic pollution in my community with it negative effects on climate.
A TREE FOR A TWITTER FOLLOWER
One of my tree planting strategy is that; I plant a tree for every my Twitter follower @MourineAsiimwe. This is intended to interconnect media with environmental conservation through tree planting and spreading awareness worldwide about the importance of planting trees #ClimateAction. #TwitterForest.
Contact me through
www.asiimwemourine.com
E_mail: asiimwemourine7@gmail.com
Twitter: @MourineAsiimwe
Facebook: Asiimwe mourine
Wats up: +256705533917
Source: Climate Daily Effects (C.D.F) is a social media platform that share stories and solutions to climate crisis in everyday life. C.D.F is presented to you Friday of every week by LYCA 's Climate Education Coordinator Miss. Kadiatu A. Sheriff. Climate Daily Effects is an initiative of  Liberian  Youth for Climate  Actions (LYCA)
You can share your stories and solutions to us (LYCA ) through these media: Nyanfor7077@gmail.com, lycactions@gmail.com , Whatsapp (+231776882413), Follow us on Facebook @LYCActions
www.delreport.com