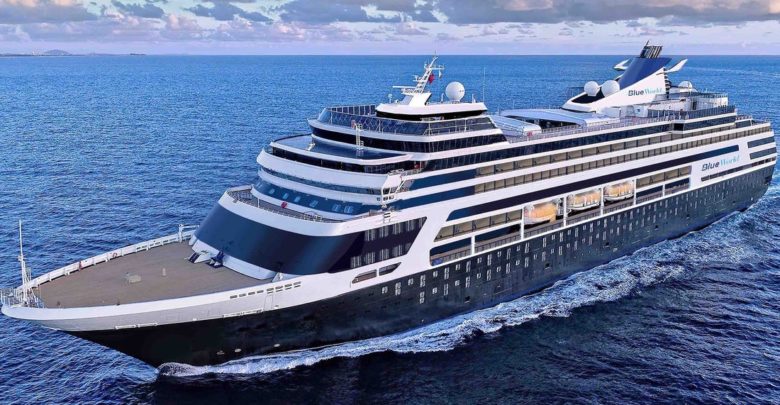 Blue World Voyages is making waves as it plans to sell 40 residences starting at $2.3m onboard its inaugural luxury ship. GlobalData's cruise writer Frances Marcellin investigates why the idea of hyper-expensive floating apartments appeals, and speaks to co-founder Fredy Dellis, about some of the complexities behind getting such an ambitious project off the ground.
Marcellin writes: "At the start of 2020, 40 permanent residences will be available to buy on the world's first wellness-dedicated luxury cruise ship. A further 225 staterooms will be marketed to those interested in "active lifestyle cruising". Aimed at active, athletic adults, new cruise line Blue World Voyages is placing this unique travel offering at the cross section of the exploding cruise and wellness tourism markets.
"According to research by the Global Wellness Institute the wellness tourism market is expected to reach $919bn in 2022, growing twice as fast as the tourism market. Wellness tourism consumers are spending 53% more than the average tourist and are seeking new and diverse ways to experience wellness, which is creating high-end opportunities in travel, especially in cruise as the market continues to grow.
"Having a smart financial model is clearly crucial to a such a bold project – especially when Blue World Voyages envisages running a three-strong fleet of wellness-dedicated luxury ships in five years' time. To make it work, founder and chairman Gene Meehan knew that building a new vessel, which could cost $500,000 at a time when shipyards are fully booked anyway, was a no go.
"He believed that buying an existing ship that had been operating for around 20 years, with a length of 700 feet and 50,000 gross tonnes, and which could accommodate the planned facilities, plus 525 passengers, was the best direction to take.
Fredy Dellis, co-founder of Blue World Voyages and Acting CEO, tells GlobalData: "We will spend about $75m on the refit. At the top of the vessel we will completely gut four decks: two are for the 40 residences for the owners; one is for all of the sports facilities and equipment; and one will be for the spa activities.
"The future owners of the 40 residences are high net worth individuals who want to follow a wellness lifestyle at sea. It's [about] creating an atmosphere on board and on shore of people who have common interests in terms of getting regular exercise, looking for good food, but at the same time discovering new destinations."
"If everything moves according to plan, then we will start to sell the residences and be ready to open in the second quarter of 2021."globaldata.com