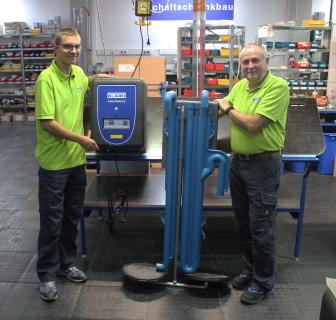 The treatment of domestic and industrial wastewater is a core task in the sustainable use of water as a resource, and indispensable in ensuring the ongoing prosperity and good health of mankind. With 100,000 small treatment plants delivered, KLARO GmbH from Bayreuth, Germany, has solidified its position as the European market leader in the field of decentralised SBR treatment systems with air-lift pumps. The company has been supplying successful on-site solutions for waste-water treatment worldwide for 20 years.
In many countries, water shortage is becoming an ever greater problem. This is compounded by inadequate or non-existent wastewater treatment. This is also due to the fact that the construction and connection to a public sewerage system is complex and expensive. KLARO offers comparatively inexpensive decentralized wastewater solutions that help to maintain the purity of the important resource water. KLARO also supports this importance by offering its sewage systems with optional extensions for direct reuse – e.g. for irrigation.
Decentralised solutions are beneficial wherever connections to a central wastewater treatment plant are either not possible or the cost involved does not justify a connection. With the sale of the one hundred thousandth SBR system, KLARO GmbH – a medium-sized manufacturer of small treatment plants and one of the European market leaders – has succeeded in ensuring the treatment of wastewater across the globe.
"Whether we're providing a small wastewater treatment system for a single-family home in Bavaria, a containerized treatment system for a research station in Spitzbergen, or a treatment system for 1225 inhabitants of an entire village in Hungary, our flexible fully biological treatment process enables more than 675,000 users in over 70 countries worldwide to treat their wastewater," explains Tobias Pankse, Commercial Director of KLARO GmbH.
KLARO small treatment plants use the fully biological SBR process. Wastewater is treated with the use of so-called activated sludge in the sequencing batch reactor. The micro-organisms in the sludge carry out the actual treatment work by breaking down the pollutants dissolved in the water.
The functional components of KLARO small treatment plants are designed as retrofit kits, making them particularly flexible in use. This principle allows them to be used in tanks of any geometry, made of materials such as plastic, concrete, or fibreglass.
KLARO GmbH has been producing wastewater treatment plants and separators for residential, commercial, and industrial use for some two decades. From the production site in Bayreuth in Germany, the company creates individual solutions using a proven modular system. The range of services includes both the new construction of complete systems, including the associated planning and the retrofitting, expansion, and modernisation of existing systems.
For distribution and installation we work together with a worldwide network of professional partners.
KLARO GmbH has been part of Baden-Wuerttemberg-based GRAF Group since 2014. As a specialist for plastic products in the field of water management, Otto GRAF GmbH from Teningen near Freiburg has been working together with KLARO GmbH since 2002. The two companies merged to form the GRAF Group, which today operates successfully worldwide.
Source:http://klaro.eu