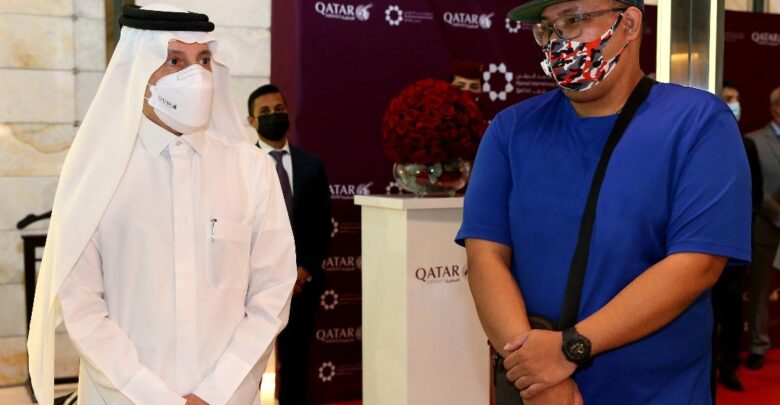 Mariner Lounge in Doha has ceremonial opening to mark International Maritime Organization's Day of the Seafarer 2021, with hundreds given free flight upgrades as part of commemoration
Qatar Airways has transported more than 380,000 seafarers and offshore workers since April 2020 for repatriation and crew change
The world's first airport lounge for the exclusive use of seafarers and offshore workers has surpassed more than 50,000 visitors since it opened its doors in late 2020 and to mark the International Maritime Organization's "Day of the Seafarer", Qatar Airways held a ceremonial opening event.
Located at Qatar Airways' hub at Hamad International Airport in Doha, the Mariner Lounge was officially opened by the Group Chief Executive of Qatar Airways, His Excellency Mr. Akbar Al Baker on the International Maritime Organization (IMO) Day of the Seafarer on 25 June.
The provision of dedicated lounge facilities provides ship's crews and those working in offshore industries travelling with Qatar Airways an exclusive and luxurious haven during their journeys. In addition to an international selection of food and beverages, facilities include unlimited high-speed wi-fi, shower facilities, a television area, reading materials and a Business Centre.
Qatar Airways Group Chief Executive, His Excellency Mr. Akbar Al Baker said: "Qatar Airways is pleased to have played a leading role in the repatriation of seafarers stranded due to the pandemic, working closely with governments and the maritime industry. The international shipping industry is the lifeblood of the world economy, and as a leading global airline, Qatar Airways is truly proud to support the crews who, along with us, keep the world moving.
"We offer something no other airport or airline in the world currently provides – a peaceful space for these key workers to relax during their flight transfer as they make their way home or to their next posting. I hope many more maritime workers will sample our hospitality at the Mariner Lounge."
Eligible seafarers & offshore workers can relax in style and experience exclusive benefits of the new lounge in addition to our world-class service and hospitality.
During the pandemic, Qatar Airways has carried more than 380,000 seafarers and offshore workers since April 2020, including repatriations and crew changes, and there have been around 100 charters carrying around 28,000 mariners.
The global COVID-19 pandemic has created unprecedented challenges for the aviation industry and, despite this, Qatar Airways never ceased operations and worked diligently to take people home safely and reliably throughout the crisis. The airline has also added eight new destinations in the past 12 months including San Francisco and Seattle in the US, Abidjan, Abuja, Accra and Luanda in Africa, and Brisbane and Cebu in Asia Pacific.
As travellers return to the skies with Qatar Airways, they can take comfort knowing that they are travelling with the only airline in the world that has, together with its state-of-the-art global hub Hamad International Airport, achieved four 5-Star Skytrax ratings – including the prestigious 5-Star Airline Rating, 5-Star Airport Rating, 5-Star COVID-19 Airline Safety Rating and 5-Star COVID-19 Airport Safety Rating. These achievements highlight Qatar Airways' commitment to providing our passengers with an industry-leading experience at every point of their journey, including the highest possible level of health and safety standards that safeguard the wellbeing of our passengers both on the ground and in the air. For full details of all the measures that have been implemented onboard and in HIA, please visit qatarairways.com/safety.
About Qatar Airways
A multiple award-winning airline, Qatar Airways was named 'World's Best Airline' by the 2019 World Airline Awards, managed by international air transport rating organisation Skytrax. It was also named 'Best Airline in the Middle East', 'World's Best Business Class' and 'Best Business Class Seat', in recognition of its ground-breaking Business Class experience, Qsuite. Qatar Airways is the only airline to have been awarded the coveted "Skytrax Airline of the Year" title, which is recognised as the pinnacle of excellence in the airline industry, five times.
Hamad International Airport (HIA), the airline's home and hub, was recently ranked "Third Best Airport in the World", among 550 airports worldwide, by the SKYTRAX World Airport Awards 2020. Rising from fourth position in 2019 to third in 2020, HIA has been steadily rising in the 'World's Best Airports' rankings since the start of its operations in 2014. In addition, HIA was voted the 'Best Airport in the Middle East' for the sixth year in a row and 'Best Staff Service in the Middle East' for the fifth year in a row.
Qsuite, a patented Qatar Airways product, features the industry's first-ever double bed in Business Class, as well as privacy panels that stow away, allowing passengers in adjoining seats to create their own private room, a first of its kind in the industry.
Qatar Airways was the first Gulf carrier to join global airline alliance oneworld, enabling its passengers to benefit from more than 1,000 airports in more than 160 countries, with 14,250 daily departures.
Oryx One, Qatar Airways' in-flight entertainment system offers passengers up to 4,000 entertainment options from the latest blockbuster movies, TV box sets, music, games and much more. Passengers flying on Qatar Airways flights served by its B787, B777, A350, A380, A319 and select A320 and A330 aircraft can also stay in touch with their friends and family around the world by using the award-winning airline's on-board Wi-Fi and GSM service.
Qatar Airways proudly supports a range of exciting international and local initiatives dedicated to enriching the global community that it serves. Qatar Airways, the official FIFA partner, is the official sponsor of many top-level sporting events, including the FIFA World Cup Qatar 2022TM, reflecting the values of sports as a means of bringing people together, something at the core of the airline's own brand message – Going Places Together.
Qatar Airways Cargo, one of the world's leading international air cargo carriers, serves more than 60 freighter destinations worldwide via its world-class Doha hub and also delivers freight in the belly-hold deck of passenger aircraft to an extensive network. The Qatar Airways Cargo fleet includes two Boeing 747-8 freighters, 24 Boeing 777 freighters and six B777-300ER mini freighters.
Qatar Executive is the private jet charter division of Qatar Airways Group. Luxury jet services are available for worldwide charter on board the operator's wholly-owned business jet fleet. Qatar Executive is the launch customer for Gulfstream's G700, the world's first commercial service operator of the Gulfstream G500 and largest commercial operator of the G650ER worldwide. Qatar Executive's service portfolio also includes aircraft management, maintenance and Fixed Based Operator services.