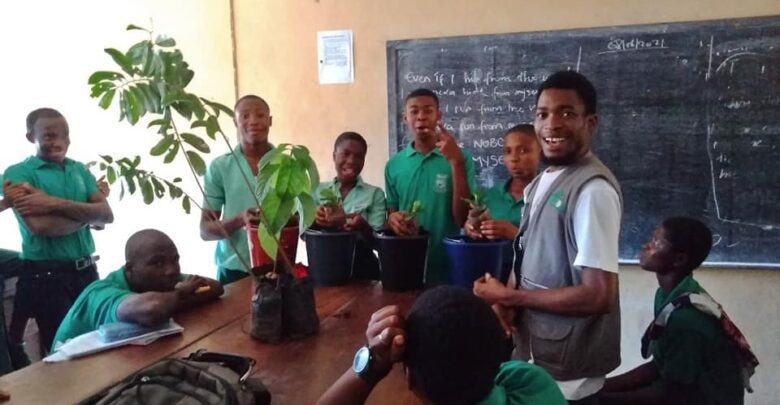 I am Samuel Chijioke Okorie, a climate/environment activist and researcher from Nigeria, graduate of sociology and anthropology. I am Passionate about Climate and Environment education, social justice and community development. I am 4thin the family of 7, I love what I do in the field of climate and environment and green economy, which has gained remarkable results, as it has helped many community tackle the issues arising from climate change impacts.
PASSION
Passion has been my lead in all I do. My first climate advocacy was in 2017 which was found in the need to promote clean and green environment. This passion has birthed many outstanding projects at both local, national and international communities. Here is one of my favorite quote More Action, less talk.

PROBLEM
The major problem faced in my community ranges from indiscriminate waste disposal, oil spillage, plastic pollution and food insecurity. This has generated a lot concern to me, especially in low communities that finds it difficult to cope with the adverse effect of this action which at times gives rise to disease outbreak, food scarcity and even violent conflict.
SOLUTION
I have coordinated, and planned projects that taught teachers and students on climate, green economy and sustainability, hosted interviews with policy makers and stakeholders, carried out environment assessment surveys on loss and damage associated with climate change in rural communities, organize climate strike and campaigns and has led several climate advocacy and dialogue for clean and green environment, plastic pollution, waste management and sustainable environment practices. Thereby creating an enabling platform for me to share my skills, experience, transfer knowledge, and release tangible information with other youth and learn from diversified scholars with amazing perspectives on climate and sustainability in a broader scope to tackle the issues of climate change, waste disposal, oil spillage, plastic pollution and value chain in food supply.
Samuel Chijioke Okorie
Contact her via: Email: master.socab@gmail.com Twitter @SocabDp Instagram @socabdp
Facebook @socabdp or Samuel Chijioke OKorie
LinkedIn: https://www.linkedin.com/in/samuel-chijioke-okorie-socab-a1366a19b/
Blog: https://youthfortodayinitiative.wordpress.com/
Source: Climate Daily Effects (C.D.F) is a social media platform that share stories and solutions to climate crisis in everyday life. C.D.F is presented to you Friday of every week by LYCA 's Climate Education Coordinator Miss. Kadiatu A. Sheriff. Climate Daily Effects is an initiative of  Liberian  Youth for Climate  Actions (LYCA)
You can share your stories and solutions to us (LYCA ) through these media: Nyanfor7077@gmail.com, lycactions@gmail.com , Whatsapp (+231776882413), Follow us on Facebook @LYCActions
www.delreport.com