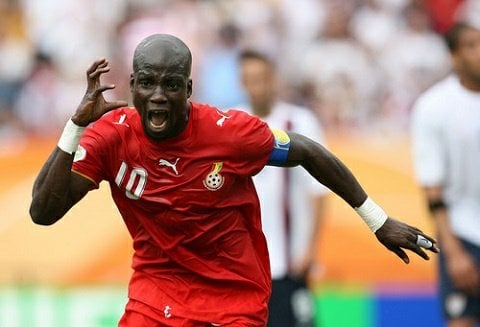 Former captain of the Black Stars, Stephen Tornado Appiah will be the special guest at the Mamprobi Girls School on December, 24 when he will officially support the CEO of Coastal Development Agency (CODA), Hon. Jerry Ahmed Shaib and other dignitaries to unveil the plaque  to signify the naming of the super star after the new community sports and social facility.
Appiah who led Ghana to the first FIFA World Cup in 2006 will be joined by colleague star players to play in an exhibition match on his birthday.
Hon. Lawyer Jerry Ahmed Shaib who is Deputy General Secretary of the Ghana Olympic Committee (GOC)  said he is excited that the astro turf has been completed, and it will be used for all special outdoor activities.
He expressed that religious activities as well as engagements and weddings, and educational events can also take place on the facility.
The CEO of CODA described Stephen Appiah as a role model who grew up from a slum coastal area, Chorkor and he became a super star playing big time football for Accra Hearts of Oak, Udinese, Parma, Brescia, Juventus, Fenerbahçe, Bologna, Cesena and Vojvodina.
Appiah also featured for the National team Ghana U17, (Black Starlets), Ghana U20 Black Satellites and the Black Meteors and the Black Stars.
Hon. Shaib who is also President of the Ghana Weightlifting Federation urged the youth of Ablekuma South and surrounding areas to emulate the positive deeds of the super star and make the name of Mamprobi, Chorkor, Korle Gonno and Korle Bu go high.
The world standard Astroturf was constructed by Blaze Investment Company Limited who have assured their commitment to embark on regular maintenance on the pitch when the need arises.
By Daniel Nyarko