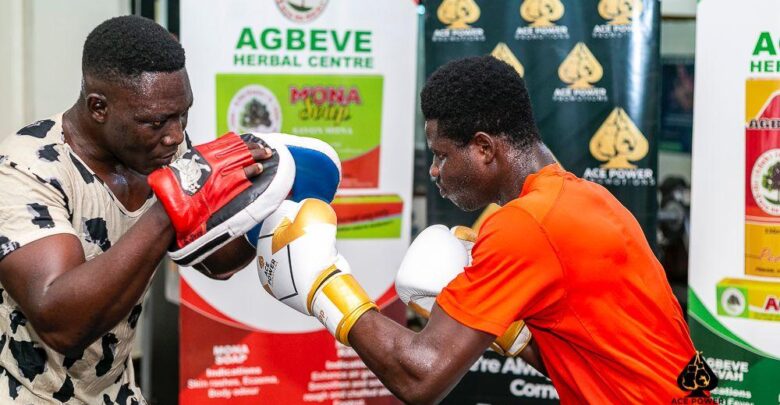 Ghana based Nigerian boxer Joshua Wahab Oluwasuen, WBO Africa junior lighweight champion and national featherweight champion, Holy 'Jaw Breaker' Dogbertor were engaged in a media workout on Wednesday at the La-Palm Royal Beach Hotel ahead of their scheduled Dec 25, 2021.
Oluwasuen (21-0, 14 KOs) who trains at the Charles Quartey Gym will defend his continental title against Tanzanian opponent, Jackson Minyilingi (11-4-1, 3 KOs).
"All my fans should expect the best performance from me because I'm 120 percent ready to take on any challenger," said Wahab with poise.
"If today had even been the day for the fight, the world would see what I'm made of and what I will deliver. I am inviting all Nigerians in Ghana as well as my Ghanaian fans to all come in their numbers to celebrate another victory," he expressed.
Rising star, Holy Dorgbetor (8-0, 5 KOs), the UBO and Ghana featherweight titles showed the stuff he is made of at the workout before he faces Emmanuel Otoo.
"All my fans should expect the best from me because I'm here to show to the world my other side. We have been quiet for sometime and now we are very ready to make a statement because it's my time," Dorgbetor said.
ACE Power Promotions' General Manager, Isaac Amankwah promised to surprise package for boxing fans on the night.
"It's Christmas Day and we are bringing Santa here on fight night so imagine the goodies we will deliver on the day," Mr. Amankwah indicated.
Another press conference will take place at the La-Palm Royal Beach Hotel on Monday
The bill dubbed 'Brawl in Accra' is Put together by ACE Power Promotions in collaboration with Streetwise Management and DiBella Entertainment. Tickets are going for Gh¢600, Gh¢500 and Gh¢400. Diamond ringside is selling for Gh¢300, ringside platinum is Gh¢200, elevated sitting at Gh¢100 whilst general admission goes for Gh¢50.
By Daniel Nyarko