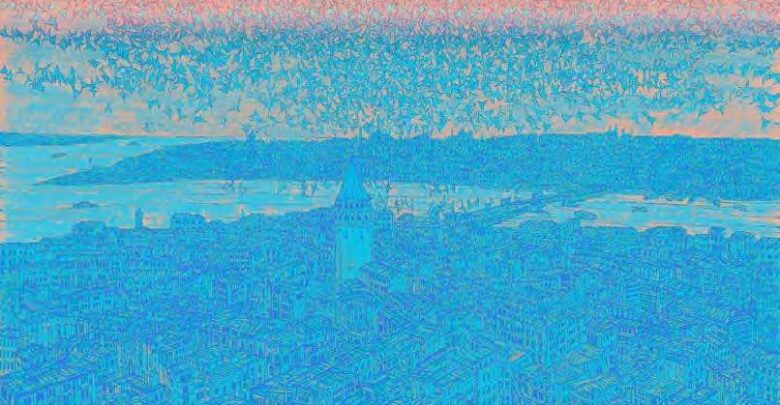 A new exhibition of work by Devrim Erbil titled NeonIST has been unveiled at The Stay Boulevard Nisantasi, highlighting the hotel group's continued investment in art and its creators.
One of the most important contemporary Turkish artists on the world stage, Erbil has introduced a new concept of adding neon colours to his signature paintings of Istanbul for the special series of NFTs now available to purchase.
The works offer intense new perspectives of the mix of history, nature and architecture from which this ancient metropolis springs, joyful expressions of Erbil's love of the city in which he has lived for 65 years.
Erbil is renowned for his studies of Istanbul, which depict the rhythm of birds flying over the Bosphorus and the magnificent urban landscape. His involvement in this project illustrates his keenness to explore and embrace new technological innovations.
The exclusive NFT collection, curated by Renkolondon, features an oil painting created in collaboration with the celebrated American digital artist Silly Gabe, monotype giclée prints curated by Erbil Kare, silk screen prints, NFTs, and an open edition in collaboration with Renk Erbil.
Erbil was lauded for his transition to the digital environment with his first NFT collection, 'London like a dream', also curated by Renkolondon, in collaboration with Fanchain 3 and Nifty Gateway. It was exhibited at the Saatchi Gallery in London in 2021.
The NeonIST series is available to buy from www.renkolondon.com. The exhibition is on show to The Stay guests and non-guests in the hotel gallery, 11am-10pm, Tuesday to Sunday, until 2 April.
About The Stay Hotels
Award-winning The Stay Hotels operates five properties with a total of more than 180 guest rooms in Istanbul and Alacati in Türkiye. In Istanbul, the collection includes its newest property that opened in June 2022, The Stay Boulevard Nisantasi, together with The Stay Nisantasi, which is set in the heart of the Fashion Quarter; The Stay Bosphorus, a revamped 19th-century waterfront mansion; and Bebek Hotel by The Stay, a glamorous and storied hotel. In Alacati, The Stay Warehouse is a cool former industrial space close to the coast, which won the Best International Hotel category of the Food and Travel 2021 Readers Awards.
In 2022, The Stay Hotels became the first carbon-neutral independent hotel group in Türkiye. It was awarded carbon-neutral status by the internationally recognised sustainability specialist Bureau Veritas (https://group.bureauveritas.com) following an evaluation of the group's adherence to the international standard for greenhouse gas verification. As well as taking practical steps in its own operation to counter any greenhouse gases produced, The Stay Hotels has invested in domestic and green-energy projects locally and globally and works with companies that are committed to using green and sustainable products and processes. The group aims to achieve zero waste by the end of 2022.