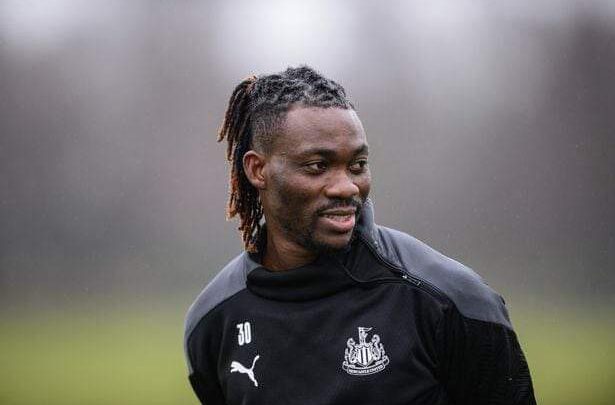 Christian Atsu scored for Turkish Süper Lig club Hatayspor while in action on Sunday. The late goal helped to secure three points and a 1-0 win over Kasimpasa.
Atsu joined Hatayspor on a free transfer last summer after leaving Saudi Arabian side Al Raed FC.
Newcastle winger Christian Atsu is reportedly 'stuck trapped under rubble of a destroyed building' following a 7.8 magnitude earthquake in Turkey. He was a former Chelsea winger.
More than 1,600 people have been killed and thousands more injured after the catastrophic earthquake that rocked Turkey and Syria overnight, flattening neighbourhoods while families were asleep.
As reported by multiple outlets in Turkey, a search and rescue operation is underway for Ghanaian international Atsu – who joined Turkish Super Lig club Hatayspor last summer.
Two of his team-mates as well as members of the technical staff were said to have been pulled out of the rubble, though Atsu – who scored a dramatic late winner for his club yesterday – is still missing.
Atsu joined Chelsea in 2013 but made never played a competitive minute for the club as he was sent out on loan for a number of seasons including to Everton and Newcastle.
Though he made just five appearances at Everton, he impressed enough on loan at Newcastle to make a permanent move to the Magpies.
In total he made 107 appearances for the club, scoring eight goals, before joining Saudi side Al-Raed in 2021.
Atsu was in action last night for Hatayspor, scoring a goal in the seventh minute of stoppage time in a 1-0 victory over Kasimpasa.
Hatayspor player Onur Ergurn, meanwhile posted in an Instagram story that reports that he is missing were incorrect.
'Thank you very much to everyone who called and asked,' the midfielder said. 'The news is not true. I'm fine.
'I can't answer the phone because there is a network problem. Get well soon to all of us.'
Turkish keeper, Ahmed Turkaslan of Yeni Malatyaspor is also said to be missing.
The clubs assistant coach İlhan Var said: 'We have not found our goalkeeper Ahmet Eyup Turkaslan yet. There are no signs right now. His wife came out and described where he could be.'
The wife of Hatayspor manager Volkan Demirel shared a tearful message after a massive aftershock with a magnitude of 7.5 hit Turkey's south hours after the original quake.
newsghana