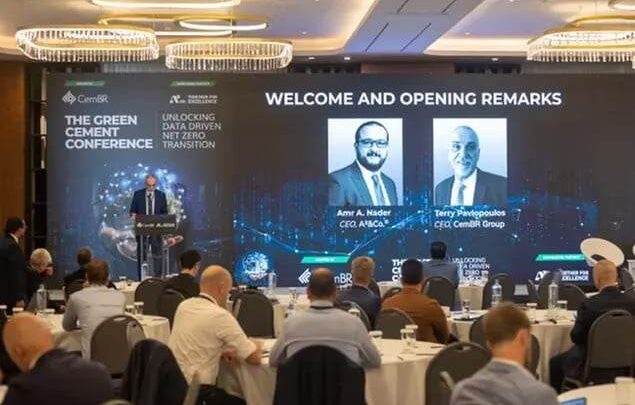 Last week, the Green Cement Conference commenced, heralding a ground-breaking event that brought together esteemed visionaries, thought leaders, and industry experts from Europe, Middle East, Africa and North America, to propel the Green Cement revolution. With an exceptional line-up of sessions, the conference aimed to unlock a "data driven" limitless opportunities for a future of Green Circular Cement.
The conference's panel discussions delved into critical topics crucial to transforming the cement industry and driving a factual Net Zero transition. Attendees actively engaged in enlightening conversations on climate challenges, technological innovations, market trends, opportunities, collaboration, and partnerships. These dynamic exchanges of ideas will fuel progress towards a greener cement sector.
The inaugural panel discussion addressed the urgent issue of climate challenges, and the pivotal role cement sector should play in the global effort to combat the climate change and achieve sustainability goals to 2030. Esteemed experts highlighted the significant carbon emissions linked to the industry and put forth actionable steps to reduce its environmental footprint.
Taking centre stage in the second panel discussion were ground-breaking technological advancements and the latest research and development efforts towards a circular cement future where distinguished experts presented the most promising innovations aimed at reducing carbon emissions in cement manufacturing.
The Green Cement Conference featured two eye-opening panel discussions. The first, titled "CCUS: Looking to the Future – Shaping the Path Forward," focused on advancing CCUS technologies in the Cement Sector, highlighting scaling, collaboration, technology, policy, and international cooperation. The second panel, "Digital Maturity: What it Means for Cement Plant Decarbonization?" explored the link between digital technologies and sustainable cement production, emphasizing efficiency, process optimization, and the transformative potential of digitalization, automation, and AI.
The conference also provided a platform to discuss the impact of changing consumer preferences and market demands on the adoption of green cement. Furthermore, it delved into the significant implications of Carbon Tax on Cement and highlighted the power of collaboration and partnerships in accelerating the transition to green cement.
"We are thrilled to host The Green Cement Conference, providing an exceptional platform for industry leaders to come together and drive the transition towards a greener cement sector," said Terry Pavlopoulos, CEO of CEMBR Group. "Through dynamic discussions, innovative ideas, and collaborative efforts, we aim to unlock the full potential of green cement in advancing the circular economy agenda."
Amr Nader, CEO of A³&Co.®, the knowledge partner, expressed his belief that The Green Cement Conference promises to be a catalyst for change, igniting a collective effort to achieve a sustainable and green future for the cement industry. Nader also highlighted the panel on "Waste to Energy – Co-Processing Shaping Cement Future Circularity," which aims to explore the pivotal role of waste-to-energy co-processing in shaping the future circularity of the cement industry.
The conference featured a distinguished lineup of speakers from:World Cement Association, McKinsey & Company, IFC, A³&Co.®, HERACLES Group, Titan Cement Company, Ciments de l'Afrique – CIMAT, Heidelberg Materials, Cemex Ventures, CemBR, Stifel, EBRD, KHD, Carbon Upcycling Technologies, C2CA Technology, Geocycle Hellas, DLA Piper, Carbon Re