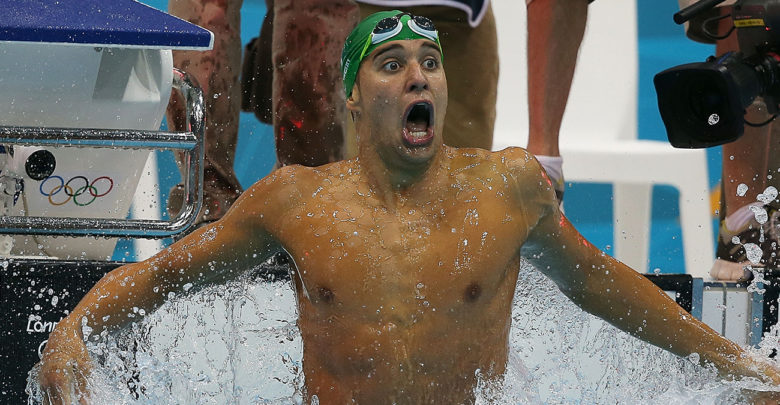 Chad le Clos is so buoyant he is in danger of hitting the ceiling. The four-time world champion swimmer who left the Rio 2016 Olympic Games utterly broken has rebuilt himself and cannot wait to get to the Gold Coast.
"The Commonwealth [Games] are very important to me. I am seven medals (away) from the all-time record," le Clos says, referring to the mark of 18 Commonwealth Games medals currently held by both English shooter Mick Gault and Gault's Australian counterpart, Philip Adams. "If I can get seven medals I will become the most decorated of all time at the Commonwealth Games.
"It's nice to get the chance to create a little bit of history along the way, so one day in 20, 30, 40 years' time, when I have grandkids, I might be able to say, 'Granddad holds the records for the most amount of medals won and did the treble in the fly'."
It is the butterfly that is at the heart of the South African's renaissance. A little more than six years ago the event gave him the moment that, no matter what else he achieves, you suspect will define his career for ever. In London's Aquatics Centre le Clos took on the greatest of all time, Michael Phelps, in his signature event, the 200m butterfly, and beat him to Olympic gold.
Fame, fortune and gold in the same event at both the 2013 FINA World Championships and 2014 Commonwealth Games followed, but in August 2016 it all came crashing down. A stagnant le Clos never found fifth gear across the entire Olympic Games and even his favoured 200m butterfly failed to prise his very best form from him. A silver medal (in the 100m butterfly) shared with the retiring Phelps and the 2015 200m butterfly world champion Laszlo Cseh was not what he had trained for.
The crushing disappointment brought about wholesale changes, first to le Clos' coaching team, training regime and base and then to his diet and general approach. Redemption came more quickly than most imagined possible.
"2016 was a difficult year," le Clos admits. "I won't shy away from the mistakes I made but I said I would be back and that I wanted to win the 200m fly at the world championships."
And win he did, beating the defending champion Cseh in front of his home crowd in Budapest.
"That was a huge moment in my life, not just in my career. I did it for myself, I did it because I wanted to win. I got obsessed with winning and redeeming myself."
The 25-year-old has qualified for five individual events plus the relays at Gold Coast 2018 but if he had to pick one event to prioritise, you can probably guess which it would be.
"Because of what happened (in Rio) the 200m has become very emotional, very close to my heart because the way I lost it and then won it (at the 2017 world championships) made it very special for me," he says. "I feel like that is my event."
Victory on 7 April this year would be his third successive 200m fly Commonwealth Games crown, not that le Clos is getting complacent. The South African has pinpointed England's James Guy and 100m fly Olympic champion Joseph Schooling (SIN) as his main rivals, while he also has his eyes open for "a young 18-year-old who is coming through the ranks who I haven't heard about, like I did in 2010".
Unsurprisingly, the South African has vivid memories of the Delhi Games in 2010. It wasn't the 18-year-old's first senior championships – he had been to the 2009 world championships to gain some experience – but it was the first time he had put expectations on himself.
"It was a different kind of pressure," he explains. "I went to the 2009 world champs knowing I was not going to make a final but the (2010) Commonwealth Games were extra special because I knew I had a chance."
Gold in the 200m butterfly and 400m individual medley followed, triumphs he backed up with another double in Glasgow four years later – that time in the 200m butterfly and 100m butterfly.
"It's all about learning to find comfort under pressure, that is the key to success, learning to deal with all the outside pressures and converting them into a winning formula," he says. "I think I have got that art down to a tee."
One thing is for certain: the man who was crowned FINA's overall World Cup champion in 2017 – he is the first male swimmer to win the title on four occasions – will not back down in Gold Coast's Aquatic Centre. It is simply not in his nature.
"It's probably going be the most difficult Games because the Aussies are extremely hard to beat at home," he says, before adding, "But I have never really raced in front of a home crowd before so, for me, I am always on enemy soil.
"We (South Africans) are not afraid of things, which I think makes us difficult to beat. A lot of South Africans have that type of character. We are brought up that way, to be strong and bold and go for what we want, that type of attitude where we don't settle for anything less."
You have been warned.
Tickets are still available to many great sports at GC2018, including Athletics, Basketball, Hockey, Squash and more. Get your tickets now. 
Full list of athletes representing South Africa at GC2018
Swimming
Women: Erin Gallagher, Tatjana Schoenmaker, Dune Coetzee, Kate Beavon, Kaylene Corbett, Emily Visagie, Marlies Ross, Nathania van Niekerk, Kristin Bellingan, Mariella Venter and Emma Chelius
Men: Ayrton Sweeney, Cameron van der Burgh, Chad le Clos, Jarryd Baxter, Brad Tandy, Brent Szurdoki, Martin Binedell, Ryan Coetzee, Eben Vorster, Luan Grobbelaar, Calvyn Justus and Michael Houlie.
Para Swimming
Christian Sadie, Kaleb van der Merwe
Diving
Nicole Gillis, Micaela Bouter, Julia Vincent
Athletics
Women: Caster Semenya, Sunette Viljoen and Wenda Nel.
Men: Akani Simbine, Antonio Alkana, Constant Pretorius, LJ van Zyl, Lebogang Shange, Wayne Snyman, Luvo Manyonga, Ruswahl Samaai, Phil-­‐Mar Janse van Rensburg and Breyton Poole.
Para Athletics
Women: Juanelie Meijer
Men: Ndodomzi Ntutu, Hilton Langenhoven, Dyan Buis, Charl du Toit, Union Sekailwe, Reinhardt Hamman and Juanre Jenkinson
Badminton
Women: Elsie de Villiers, Johanita Scholtz and Michelle Butler-­‐Emmett
Men: Bongani von Bodenstein, Cameron Coetzer and Prakash Vijayanath
Boxing
Siyabulela Mphongoshi and Sinethemba Blom.
Cycling
Road: 
Women:  Ashleigh Moolman Pasio
Men: Willie Smit, Nicholas Dlamini, Clint Hendricks and Brendon Davids
Track:
Women: Charlene du Preez, Elfriede Wolfaardt, Ilze Bole, Danielle van Niekerk and Adelia Neethling
Men: Steven van Heerden, Nolan Hoffmann, David Maree, Joshua van Wyk andGert Fouchè
Cycling – Mountain Bike
Women: Mariske Strauss and Cherie Redecker
Men: Alan Hatherly
Hockey
Men's team: Gowan Jones, Siyavuya Nolutshungu, Daniel Bell, Jethro Eustice, Gareth Heyns, Tyson Dlungwana, Austin Smith, Daniel Sibbald, Timothy Drummond, Reza Rosenburg, Ryan Julius, Owen Mvimbi, Clinton Panther, Nqobile Ntuli, Abdud-­‐Dayaan Cassiem, Keenan Horne, Tevin Kok and Ryan Crowe.
Women's team: Phumelela Mbande, Nicole la Fleur, Erin Hunter, Nicole Walraven, Lisa-­‐Marie Deetlefs, Celia Evans, Nicolene Terblanche, Shelley Jones, Quanita Bobbs, Kristen Paton, Ilse Davids, Stephanie Baxter, Ongeziwe Mali, Dirkie Chamberlain, Candice Manuel, Sulette Damons, Jade Mayne and Bernadette Coston.
Lawn Bowls
Women: Elma Davis, Esme Kruger, Nicolene Neal, Colleen Piketh and Johanna Snyman
Men: Gerald Baker, Petrus Breitenbach, Jason Evans, Josephus Jacobs and Morgan Muvhango
Para Lawn Bowls
Women: Princess Schroeder
Director: Annatjie van Rooyen
Men: Tobias Botha, Willem Viljoen, Christopher Patton and Philippus Walker
Director: Graham Ward
Netball
Bongiwe Msomi, Karla Pretorius, Erin Burger, Izette Griesel, Maryka Holtzhausen, Danelle Lochner, Phumza Maweni, Precious Mthembu, Shadine van der Merwe, Ine-­‐Mari Venter, Zanele Vimbela and Lenize Potgieter
Rugby Sevens
Men's team: To be announced end of February
Women's team: Nadine Roos, Eloise Webb, Unathi Mali, Rights Mkhari, Zintle Mpupha, Veroeshka Grain, Zenay Jordaan, Marithy Pienaar, Mathrin Simmers, Christelene Steinhobel, Chane Stadler and Zinthle Ndawonde
Shooting
Bartholomeus Pienaar, Pierre Basson, Arno Haasbroek and Andre du Toit.
Triathlon
Women: Gillian Sanders and Simone Ackermann.
Men: Richard Murray, Henri Schoeman and Wian Sullwald.
Weightlifting
Johanni Taljaard, Mona Pretorius and Celestie Engelbrecht
Wrestling
Jan Louwrens Combrinck, Terry van Rensburg, Johannes Botha, Michael Gaitskill and Martin Erasmus.
Para Powerlifting
Ricardo Fitzpatrick
Para Table Tennis
Theo Cogill
This article was produced by AMP Media.