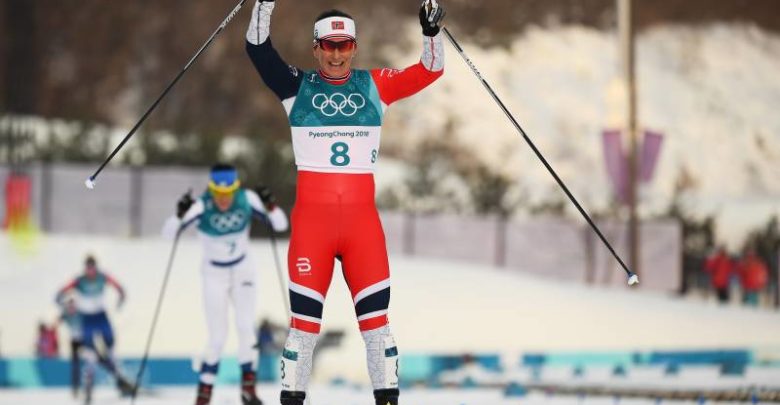 History was made at the very first medal event of PyeongChang 2018 Winter Olympics as Norway's Marit Bjorgen became the most decorated female Winter Olympian ever after collecting her 11th career Olympic medal by winning the silver in the women's 15km skiathlon at the Alpensia Cross-Country Centre in PyeongChang, South Korea.
Sweden's Charlotte Kalla denied Bjorgen the gold after finishing the race in 40 minutes, 44.9 seconds, 7.8 seconds ahead of the Norwegian, to win her third gold and sixth Olympic medal overall. The Norwegian led for most of the race, but simply couldn't maintain her pace till the end.
She told AIPS: "I think it was not that good to be in the front because of the wind so I think I was not going on high speed when I was in front because I knew it was easier to be behind so I think Charlotte had something more than me today."
This is the first Olympic medal as a mother for the 37-year-old and she is just happy about it. "I am really happy to still win medals in Olympics; things are different after being a mom and it's more important for me to be a good mom and then to do a good race so I am just happy to still be fighting for medals." she told the press after the race.
In Sochi 2014, Kalla had come in second while Bjorgen grabbed the gold. It took just one Olympics to reverse roles.
"Before Sochi I was doing the same strategy, competing before Christmas but then not having so much races before the Olympics and not doing the Tour de Ski. It was good for me and I did the same this year, because things are different for me now, it is hard doing every race being a mom, I am 37 years old and I think it is not good for me to do every race and I don't need so much races to compete well," explained Bjorgen.
Kalla made her break midway through the last of the four laps and was rewarded for her effort. "It feels incredible. I was so nervous today because I have been focusing on the Olympics for a long long time," she said.
"When I made the break I did not know where Marit was but I knew she was in the front somewhere but just tried to focused on my performance when I increased my speed."
"I decided during the first skating lap I knew it felt very good, my plan was to try to do something quite early at the last skating battle," added Kalla.
Finland's Krista Parmakoski took bronze 10.1 seconds behind Kalla while Bjorgen will have a chance to add to her Olympic medals tally when she competes in the women's 10km individual sprint on Tuesday.
By Rayane Moussallem, AIPS Media