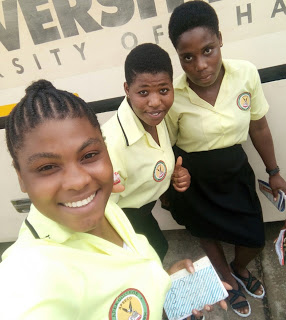 By Divine Sewornu Dzokoto
In a bid to give a concrete meaning to the things that the teachers of government as a subject do in their classrooms, the General Arts students of Apex College were taken to the public gallery of Ghana's Parliament House to observe proceedings in the house of Ghana's Legislature.
At the time of the visit of the students from the beautiful suburb of Mataheko, in Accra, the house was scheduled to debate and approve the nomination of Mr. Martin Alamisi Amidu as Special Public Prosecutor, who was nominated by the President of the Republic of Ghana, Nana Addo Dankwa Akuffo-Addo.
With other schools such as, the Future Generation Educational Center from Tema, Ghana's major Port City, the Pentecostal Preparatory School from Takoradi, in the Western Region, Kaneshie Secondary Technical School in Kaneshie and the Sacred Heart Technical Institute in James Town, perched in the Public Gallery, the motion was moved to abridge the time for the debate on the report of the Appointments Committee on the nomination of Mr. Martin Amidu as the Special Public Prosecutor.
After the move to abridge the time was done, the beautiful Parliament House, with all its beauty and glamour went alive with motions and points of order. There were hecklings from both sides of the political divide as members attracted the attention of the Speaker of Parliament.
There were attempts from the minority in parliament to prevent the debate of the report of the Appointments Committee but this was unsuccessful. Dr. Dominic Ayine, a Deputy Ranking member on Parliament's Legal Affairs Committee, who had filed a suit in court against the appointment of Martin Amidu because he was over aged, wanted the proceedings halted pending the determination of the legal matter in court. This was unsuccessful because, in the words of the Speaker, there was not enough evidence before him to make any determinations in favour of Dr. Ayine.
After this, the Speaker of Parliament called for the report of the Appointments Committee to be debated. Ordinary members from both sides were given five minutes to speak and the leadership was given ten minutes to speak. After the debate, the house approved the president's nomination of Mr. Martin Alamisi Amidu as the Special Public Prosecutor.
In spite of this parliamentary approval, Mr. Amidu must await the return of the president from the Republic of Togo, where has gone to hold talks with feuding parties in that countries protracted political crisis, to append his signature to the bill before he can hit the ground running.
Source: virtualkollage.com