As part of giving back to society and also contributing to the lives of socially excluded children in the Ghanaian society, Penplusbytes, during the Easter festivities, paid a visit to the Three Kings Special School for the Mentally Handicapped in Battor in the Volta region, where they donated assorted items including gallons of cooking oil, boxes of tinned fish, bags of maize, beans and rice, toiletries and more.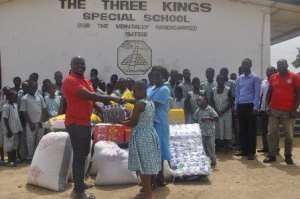 The gesture forms part of the organisation's corporate social responsibilities and comes in response to the need to support efforts aimed at making the lives of the less privileged children, numbering over 100, living under the care of the school a lot more comfortable.
Speaking at the short presentation ceremony, Jerry Sam, Director of Programmes at Penplusbytes, reiterated the importance of the gesture saying; "the purpose of our visit resonates with our core mandate of making a change in our society using innovative projects. We believe giving back to the society where we belong is a worthwhile gesture and what better time to do so than during this Easter period."
He called on corporate bodies and philanthropists to emulate such benevolent act and care for the needy especially those outside the capital, Accra, and help such special schools who have been neglected for long.
A visibly elated Headmistress, Madam Ophelia Kushigbor, could not hide her joy at the gesture. She expressed her profound gratitude to Penplusbytes for what she termed as a timely answer to her prayers especially during this festive season. She was particularly enthused by how the organization responded swiftly to her call and asked for continuous support from both individuals and corporate entities to help keep the school running.
"These items will go a long way in sustaining the kids and I will use this opportunity to ask government to complete the GETFUND dormitory project which has been abandoned for nearly a decade. Special children need special care and we can't keep converting our classrooms to dormitories to accommodate the increasing number."
About Penplusbytes
Penplusbytes is a not-for-profit organization driving change through innovations in three key areas: using new digital technologies to enable good governance and accountability, new media and innovations, and enhancing media oversight for effective utilization of mining, oil and gas revenue and resources.
Press Release, Penplusbytes
www.delreport.com