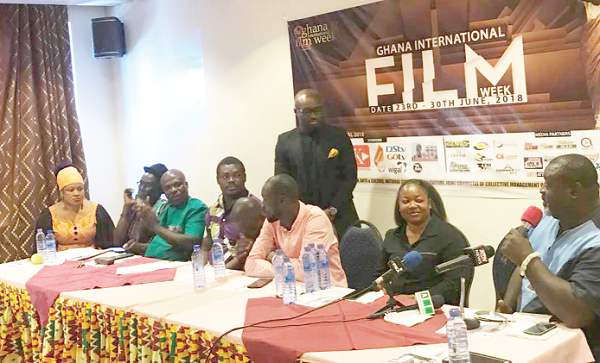 The maiden edition of the Ghana International Film Week Festival, aimed at analysing the challenges of the movie industry and the way forward is scheduled to begin on Saturday, June 23.
The festival, being put together by MKON Media, was launched last Thursday at the Maxlot Hotel in Accra.
Speaking at the event, a former Public Relations Officer of the Film Producers Association of Ghana (FIPAG) and a member of the organising team, Micheal Ola, disclosed that even though the idea of the festival came up in 2014, lack of sponsorship delayed its organisation.
"The plan was to organise a huge programme where everyone who mattered will be present to deliberate on challenges of the industry and provide solutions, however, the absence of sponsorship and again, the lack of unity in the industry slowed down its take off," he said.
Mr Ola also noted that the success of this maiden edition of the Ghana Film Week Festival will be pivotal for subsequent editions.
Activities lined up for the one-week event which will run from June 23 to June 30, include a clean up exercise in four regions; Greater Accra, Ashanti, Northern and Western regions.
There would also be a forum by the Minister of Tourism, Arts and Culture, Madam Catherine Afeku on Monday, June 25. She will use the event to reveal her plans for the film industry as well as achievements since she came into office.
For their contribution to the movie industry, 10 veterans will also be honoured with Gh¢25,000 worth of Gold and citations sponsored by Zylofon Arts Fund.
Among the personalities at the launch of the Film Week Festival were the president of FIPAG, Augustine Abbey popularly called Idikoko, President of the Film Crew Association and Director of Communications and Special Projects of the Musicians Union of Ghana (MUSIGA), Ahumah Ocansey aka Daddy Bosco.
In a presentation, Mr Abbey said the Ghana Film Week Festival will play a crucial role in the development of the movie industry since it will create a platform for stakeholders to consider good policies.
graphic.com.gh