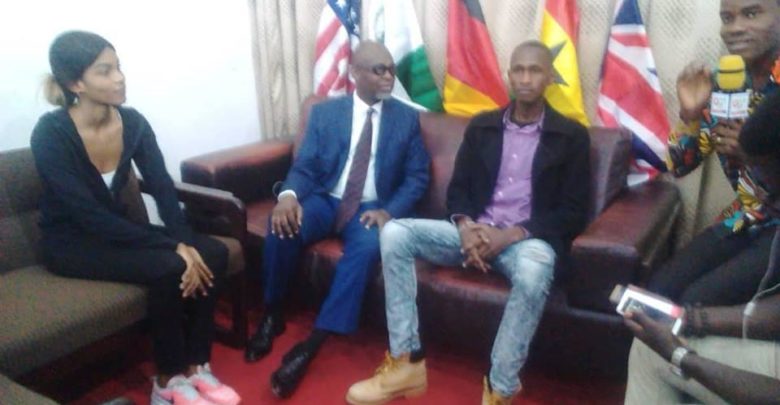 By Sammy Heywood Okine
New Kenyan marathon champion, Samuel Mungara arrived in Accra, Ghana on Friday to participate in the Preparations for the 2018 Millennium Marathon.
He was welcomed by Ambassador Ashim Morton, Founder of the Millennium Marathon Sports Ltd, his staff and the sports media.
He paid courtesy calls on the Directors of Sports at the Ministry of Youth & Sports, the Acting MD of Graphic Communications, Mr. Ransford Tetteh, witnessed the second raffle draw and visited MenzGold Ltd.
Samuel Mugara said he was happy to be in West Africa for the first time and encouraged Ghanaians to start running and come to compete at the Olympic Marathon Race.
He said though Ghana is a football nation, there may be some talents who can run, and called on African governments to intervene in sports by investing in infrastructure and facilities for sports.
He noted that Kenya has many sports complexes for athletics training where people come from all over the world to train.
He adviced athletes to train together in order to encourage each other, and motivate rising stars.
Samuel Mugara who is leading the Pre-Millennium Marathon together with Mariam Ismail from Tanzania will be at Nima on Saturday, June 30 for the 10 km "Walk, Jog or Run" event to promote the special raffle attached to the 2018 Millennium Marathon with a Nissan Kicks at stake.
The Big Millennium Marathon 2018 is sponsored by Twellium Ghana Ltd, Unilever, Japan Motors, Elite Sports, Garmin, Blue Skies, Whirlpool,  Papaye Fast Foods, Alliance Insurance, Impact Medical Center, Can West, Royal Habits
and other companies.