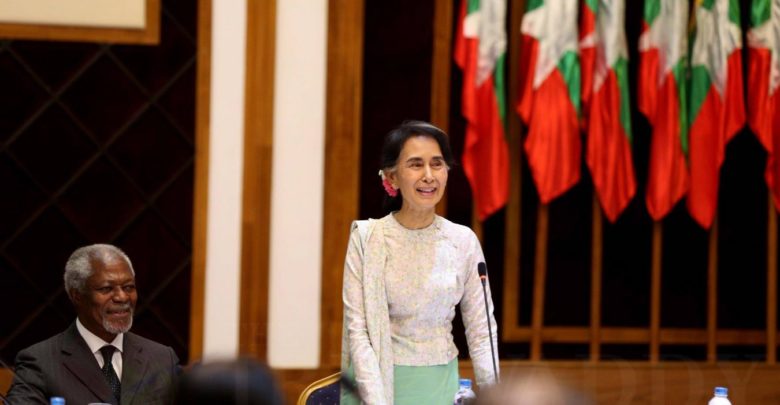 This weekend is the one-year anniversary of both the final report of the Advisory Commission on Rakhine State and a major attack by the Arakan Rohingya Salvation Army (ARSA) on government border posts in northern Rakhine's Maungdaw Township.
But the chairman of the commission and the architect of its ultimate report, Kofi Annan, will miss it. The former UN secretary-general died last week in a Swiss hospital at the age of 80.
Annan was offered the lead role on the commission by Myanmar's de facto leader, State Counselor Daw Aung San Suu Kyi, the first time a foreigner was invited to join the government's efforts to address the country's tortured relationship with its Rohingya minority .
The state counselor approached Annan only a month after a peaceful transfer of power from the Union Solidarity and Development Party (USDP) to the National League for Democracy in April 2016, well aware that the deeply rooted communal tension in Rakhine could become a major political obstacle during her tenure.
The commission was comprised of three international figures including Annan and six local experts. Its formation faced stiff opposition from the USDP and the Arakan National Party as well as from supporters of the ultranationalist group Ma Ba Tha. The commission was tasked with recommending solutions for a lasting peace in Rakhine State and a salve to the wounds of the deadly 2012 riots between its Buddhist Rakhine and Muslim Rohingya communities.
Nearly 100 people were reportedly killed in those riots and more than 100,000 Rohingya were displaced and evacuated to newly established camps on town outskirts to separate the communities and prevent further violence. For the past six years, the displaced Rohingya have been living behind barbed-wire fences without some of the most basic rights and unable to even leave the camps without permission without risking arrest. Some observers have labeled the facilities nothing short of concentration camps.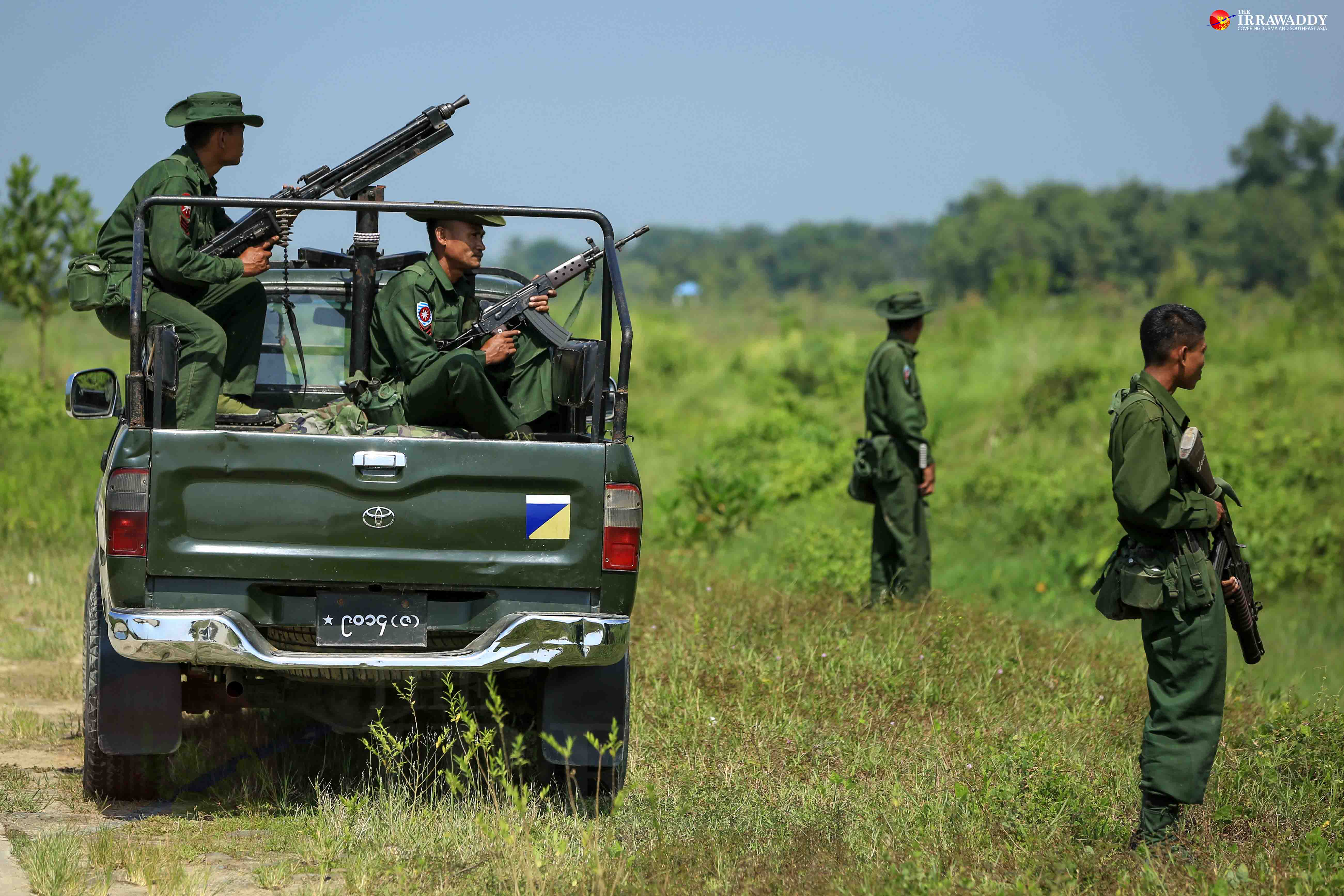 Security forces search for suspects in an attack on border guard posts in Maungdaw Township, Rakhine State, in 2016. / Hein Htet / The Irrawaddy
In an ambitious bid to tackle the profound discrimination and distrust and help rebuild a harmonious and diverse community, the advisory commission submitted its final report with 88 recommendations to the President's Office on Aug. 24, 2017, followed by a press conference in Yangon. Only eight hours later, ARSA staged its attack in Maungdaw, killing several officers. The military's response was swift and severe, reportedly unleashing a systematic campaign of arson, rape and extrajudicial killings and driving some 700,000 Rohingya to neighboring Bangladesh, doing heave damage to Myanmar's reputation on the world stage in the process.e UN has called the military's actions ethnic cleansing. Rights groups have urged the UN to bring the army's top generals before the International Criminal Court for crimes against humanity.
The US and EU have recently imposed targeted sanctions on senior army officers.
Praise abroad, rebuke at home
Despite the international criticism that began mounting against Daw Aung San Suu Kyi even after the military's response to ARSA's first attack in October 2016, and claims of genocide by some of her fellow Nobel laureates, Annan struck a moderate tone. Genocide, he said during a press conference the following December, "is not a charge that should be thrown around loosely."
And in the face of a sharp deterioration in relations between Myanmar and the West after August 2017, the government maintained that it was dutifully implementing the advisory commission's recommendations. The President's Office went so far as to say that the commission was "a shield" for Myanmar against serious international repercussions.
Over the past year, the government has formed several more ad hoc bodies to tackle the crisis in Rakhine State comprising local experts. But their reports and findings have found little traction abroad, rather drawing criticism from the EU, UN, US and Organization of Islamic Cooperation. In the UN General Assembly, they have repeatedly urged Myanmar to allow Rohingya equal access to citizenship and to return to their original communities.
The advisory commission's final report, on the other hand, has been widely welcomed and was applauded by the UN Security Council when Annan presented it in October. Myanmar has since gone on to sign deals with two UN agencies accepting their help to assist with the repatriation of Rohingya refugees from Bangladesh, including a joint assessment of Naypyitaw's resettlement plans.
Despite the positive international reception of the report, the military objected to its background section and urged the commission to avoid any mention of the armed forces' partial control of the government. A statement from the Office of the Commander-in-Chief accused the report of "some flaws and shortcomings," according to a report by the commission released in June reflecting on its work.
Among its final recommendations, the commission advised the government to: review its Citizenship Law, which denies citizenship to anyone claiming Rohingya ethnicity, and to streamline a citizenship application process that even normally takes years; guarantee freedom of movement to all groups; develop a strategy for closing down its camps for displaced people; facilitate inter-communal dialogue; simplify the security infrastructure in Rakhine State and monitor the performance of security forces there; and collaborate with Bangladesh on border issues.
The report also made several recommendations addressing infrastructure and economic development, health, education and the rule of law.
Daw Aung San Suu Kyi quickly endorsed the recommendations it their entirety as a de facto roadmap for Rakhine State and appointed a committee to implement them, headed by Social Welfare Minister U Win Myat Aye. In a public address during a state visit to Singapore earlier this week, she said Myanmar had already implemented 81 of the recommendations, though she did not say which were the seven it had not.
"A generous, positive mold"
Though the commission's mandate expired early this year, Daw Aung San Suu Kyi has kept in touch with Annan by phone. During her address in Singapore, she said he took the time to talk, listen and offer encouragement. She praised the late chairman and said he remained committed to helping her even after the international fallout from the military's latest crackdown in Rakhine.
 agreed to take on the responsibility of advising us on how we might resolve deep-rooted problems in Rakhine because his nature was cast in a generous, positive mold," she said.
"His approach was constructive and caring," she added. "He wanted us to succeed, to reach our goals of peace, prosperity, security and progress for our country."
U Win Myat Aye last met with Annan in June in Denmark, where he attended the commission's launch of a report on lessons learned and joined him in a private meeting along with other Myanmar officials to discuss the Rohingya crisis.
"We are deeply saddened by his death because we recently met in Copenhagen and at the time he seemed in very healthy condition. We never heard about his chronic or serious fever. It's a great loss for us," U Win Myat Aye said.
He said the advisory commission's recommendations were very useful and matched the priorities of Myanmar's  civilian government, and that his own implementation committee was working to put more than 80 of them into effect. But he said a few of the recommendations would not be implemented any time soon because they conflicted with existing laws.
"He mostly told us that he wanted a peaceful and prosperous future for Rakhine and suggested holding peace talks at the grassroots level where the two communities could negotiate and exchange their points of view because peace comes through negotiation," he said.

When asked whether the commission would have enjoyed the level of international goodwill that it did had it not included any foreigners, the minister said: "It doesn't need much explanation, I think."
By Moe Myint, irrawaddy.com