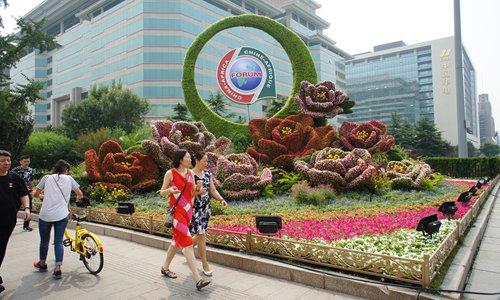 Ghana and China will exchange ideas on national development strategy and formulation of blueprints to boost bilateral relations when President Nana Addo Dankwa Akufo-Addo vists China at the invtation of President Xi Jinping next month.
The Chinese Ambassador to Ghana, Wang Shiting, who announced this at a reception in Accra, said the arrangement forms part of the Beijing Summit of the Forum on China-Africa Cooperation (FOCAC) – which he described as "a new milestone in China-Africa relations."
The reception was held to honor more than 300 Ghanaian students, who have won scholarships from both the Chinese government and Chinese universities to pursue Bachelor's, Master's and Doctoral degrees in Medicine, Agriculture, Software Engineering and other fields.
Ambassador Wang said: "The summit will combine joint construction of the Belt and Road initiative between China and Africa, the 2030 Agenda for Sustainable Development of the United Nations, and the Agenda 2063 of the African Union with the development strategies of various African countries and launch new strategies and new measures to strengthen all-round cooperation between China and Africa."
Under the theme, "Win-Win Cooperation," Ambassador Wang said the summit is aimed at opening new opportunities and new horizons for development of China-Africa comprehensive strategic cooperative partnership, while building "a closer community of a shared future between China and Africa."
"Regardless of how the international situation changes in the future, China will continue to uphold its African policy featuring sincerity, concrete results, affinity and good faith, and the policy of upholding justice and pursuing shared interests," he stated.
Investment boom
"Driven by the boom in China-Africa cooperation, more and more Chinese companies are investing in Africa. Since 2009 China has been Africa's biggest trading partner for nine consecutive years, and China's investment in Africa has accumulated to more than 100 billion US dollars."
Leaders and representatives of more than 50 African countries are expected to participate in the Beijing forum, but only a few are being considered for the state visit.
Ambassador Wang said Ghana's inclusion is an indication of the special relations between the two sides.
He said both presidents believe in the transformative power of knowledge and the necessity of investing in the citizenry, and pledged China's continued support toward developing Ghana's human resource base.
More than 6,500 Ghanaian students are currently studying in China, the most from any other country on the continent. By the end of last year, 1,076 Ghanaian students had won Chinese government scholarships.
Chinese scholarships
China is awarding more scholarships to Ghanaian students than any other country, Ambassador Wang said, while emphasizing that with the Asian giant becoming the second-largest economy in the world, its graduates stand a better chance of accessing job opportunities and becoming entrepreneurs.
"Many of them have achieved academic success and used their knowledge learned in China to promote economic and trade cooperation, cultural exchanges between the two countries," Ambassador Wang said. "They have become the backbone of development for Ghana."
In Ghana, he observed, thousands of students have developed an interest in the Chinese language and culture, and enrolled in the two Confucius Institutes.
"Just this month, Mr Duncan Acorlor – a student at the University of Ghana – won the second prize and was the most popular contestant online in the finals of the 'Chinese Bridge' Chinese Proficiency Competition, which was just concluded in Hunan Province, China."
China is also assisting Ghana to develop its educational infrastructure, having helped with the establishment of primary schools in remote areas and the New Century Careering Training Institute in Accra.
The Chinese Embassy has also built 11 China-Ghana Friendship Information and Communication Training Classrooms in eight regions, to provide children in rural and remote areas access to the internet.
Dr Matthew Opoku-Prempeh, the Minister of Education, lauded China for its immense support in the sector – especially in strengthening technical and vocational education, and the Distance Learning Programs at the University of Ghana and University of Health and Allied Sciences (UHAS).
In the speech read on his behalf by Enoch Cobbinah – Chief Director of the Ministry of Education, the minister said plans are underway to secure funds for the rehabilitation of 13 technical and vocational institutions and five technical universities.
China is also in the process of granting aid to develop the Second Phase of the UHAS, which he said will be thrice bigger than the First Phase.
Additionally, Dr Opoku-Prempeh said, between 2010 and 2018 short-term scholarships had been awarded to more than 600 staff of the ministry and its agencies to pursue courses in Education Management, Policy Planning, Technical Education and Technical and Vocational Education.
He urged the scholarship recipients to return home immediately after their studies to contribute to national development.
Kingsley Agyemang, Registrar of the Scholarship Secretariat, said it is appreciated on both sides that Ghana's relations with China are getting stronger by the day.
The Secretariat, Agyemang said, is working with the Association of Ghana Industries (AGI) to create a labour bank so that firms can easily source the requisite manpower for growth.
Acorlor happily shared his experiences as a student of Chinese and Political Science in Ghana and also China, as well as those of the competitions. He urged the awardees to experience the social, cultural and economic life of China, and also sell Ghana to China so as to make their stay beneficial for themselves and Ghana.
Source: globaltimes.cn