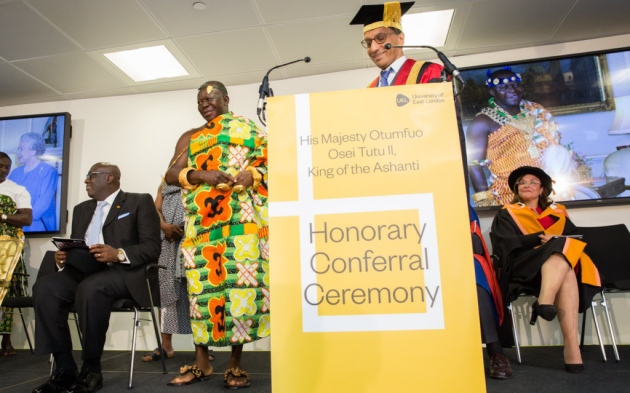 A memorandum of understanding signed by a consortium of international partners also aims to strengthen the relationship between the UK and Ghana, enhancing education and trade.
The proposals, to be carried out over the next decade, include infrustructure improvements in Ghana including a new international airport. This will be built by Mace, one of the partners in the scheme.
His Majesty Otumfuo Osei Tutu II, King of the Ashanti. Picture: David Harrison/UEL
Head of aviation consultancy Carl Dainter said: "By supporting the education of young people from Ghana in engineering, construction and project management in the UK, our new agreement will mean that Mace and UEL will help to support the growth of key skills in Ghana, as well as ensuring the delivery of world-class infrastructure and sustainable long-term economic growth."As part of the agreement, UEL students will be offered industry placements, skills development and recruitment opportunities.
The signing of the memorandum of understanding. Picture: David Harrison/UEL
Chair of governors at UEL, Geoff Thomposn, called it a "turning point", adding: "Once a student graduates at UEL they will know exactly where they're going, either a job, an entrepreneurial investment or possibly futher education.
"All of the corporates understand it is good economic business to have diversity in their workforce.
"It was on that basis we felt we needed to forge partnerships locally but with a keen eye on the global market, particularly in the post-Brexit era."
He added: "We're losing lives to those who have been failed by the education system. Getting the memorandum of understanding signed gives me hope."
The agreement was signed at Canary Wharf's Level 39 during the conferral of an honorary doctorate to His Majesty Otumfuo Osei Tutu II, King of the Ashanti, for his services to education.
He said: "Education is an enduring priority for me and the people of Ghana, so I wish to thank the University for this recognition.

"The opportunities which will be created by this partnership, for young people in the Ashanti region, Ghana, and Britain are very important, and I am delighted to be able to fully support them."
By Sophie Morton, newhamrecorder.co.uk