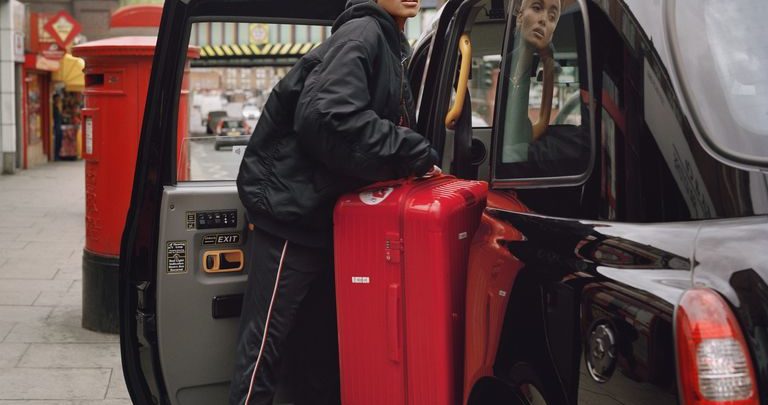 Adwoa Aboah is always on the move. She's home in New York for fashion week but might catch the next flight to see her mum in West London, where she was raised. She'll travel to festivals in Ghana for Gurls Talk, the online community she created as a safe space for women to discuss mental health, sex, and the perils of social media online. And when, one day, time travel is a thing (and she's got some time off) she'd head back to the '90s to experience the club kid thing.
Aboah's permanent transience makes her a fitting partner for luxury luggage brand Rimowa, a company that's celebrating its 120th anniversary with a first: A global ad campaign. The effort features other multi-hyphenates like 20-time Grand Slam tennis champion Roger Federer, creative director of Off-White and men's artistic director at Louis Vuitton, Virgil Abloh, celebrity chef and restaurateur, Nobu Matsuhisa, and Dior men's jewelry designer and founder and creative director of AMBUSH, Yoon Ahn.
As part of the campaign, Aboah and the others created their very own personal travel experiences films. For Aboah, travel is essential. And personal. By pushing herself to see the world, she's overcome depression.
Director Jonas Lindstroem captures Aboah challenging her doubts to get out and travel more. "Adwoa, this isn't you," the model repeats to herself. "You can't just stay in here."
Watch the short film below and try to catch up with Aboah before she jets off again.
What made you want to partner with Rimowa?
It's just always been a favorite brand of mine since I first saw it traveling with my parents. My parents bought Rimowa luggage; when I was able to take the next step and buy a grown-up suitcase I went with Rimowa as well. The luggage never feels like it's trying too hard. It's practical, chic, and reliable. Rimowa came to me with a really cool project and I knew immediately I wanted to be part of it.
How has travel impacted your life?
It's a humongous part of my life. It's exhausting and it's something I sometimes resent but it's also something that is a major factor in where my career is at now. It's also an aspect that I probably take for granted, in terms of how many people I've been able to meet. I live in New York but my favorite trip is when I get to go back to London to see my mum and dad.
You spotlight both London and New York in the film. Why?
I live in New York but I just love going to London. It's quite boring, but I love nothing more than going back to London, the place where I feel most comfortable. That's why a major part of this project is me going home. I spend a lot of time just walking around with my friends in West London where I grew up. I also love going to the cinema and going to Hyde Park.
What products are always with you?
Cocoa butter. I rarely have hand luggage because I have so many products that I need to bring with me. I like having all my face creams and everything in my checked baggage. I also always bring a pair of heels. You never know where you might be going. And a good pair of black boots.
Do you have any weird flying superstitions?
I have my own pillow, always. And I don't touch anything until I've wiped it all down with disinfectant wipes. I don't eat on the plane because it messes up your digestion.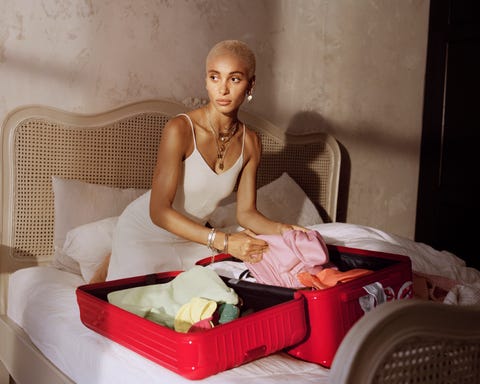 If you were stranded on a desert island, what are three things you would bring with you?
I would bring my two sisters, so that's two things already taking two spots. I'd also bring lots of disco music. I'd bring Donna Summer, Chic, and SOS.
Would you rather go back in time or skip ahead to the future?
I would rather travel back in time. Not to change anything, just to have a look. I'd probably fancy the '60s. I'd love to go to like, the rave scene. I'd like to do the most recent rave scene in the '90s.
What's next on your travel schedule?
Yep, I'll be doing the whole NYFW thing. My start of fashion week was going to Home Depot…so not very fashion week but, you know.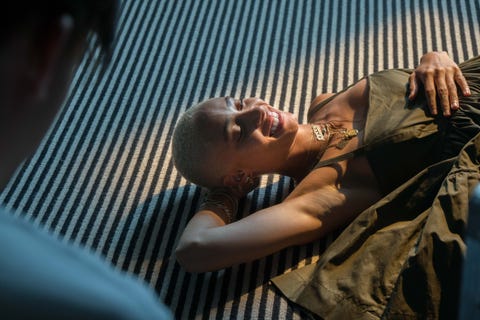 By Chloe Hall, www.elle.com