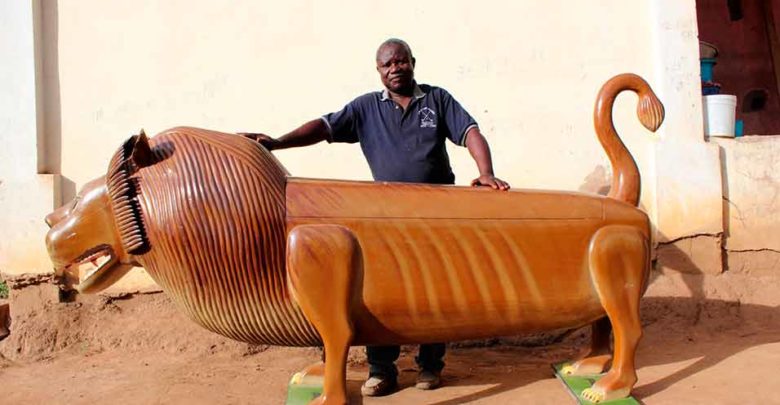 The Detroit Institute of Arts  in collaboration with the Detroit Public Schools Community District, hosts internationally renowned Ghanaian fantasy coffin artist Joseph Ashong, known as Paa Joe, for a month-long art residency at the museum.
In Ghana, West Africa, artists craft fantasy coffins to bury the dead. The coffin often represents the job the person did while alive, believing that the deceased will continue his or her profession in the afterlife. An endless variety of shapes are constructed, including cars, boats, airplanes, shoes, cell phones, and forest and sea creatures. Demonstrating his unique wood sculpting and joinery, Paa Joe and two assistants will build a figurative coffin in the shape of a Ford Model T, a motif selected by art students from Detroit's Renaissance High School. The finished painted coffin will be installed in the museum at a future date.
Visitors can watch Paa Joe's artistry at work from Sept. 23 to Oct. 21 Tuesdays–Sundays, 9 a.m.–noon and 1–4 p.m. in Prentis Court.
On Sunday, Oct. 21 at 2 pm, the DIA's Friends of African and African American Arts will honor Paa Joe with its 2018 Margaret Demant Award at the Danto Lecture Hall.
Both programs are free with museum admission, which is free for residents of Wayne, Oakland and Macomb counties.
www.artdaily.com