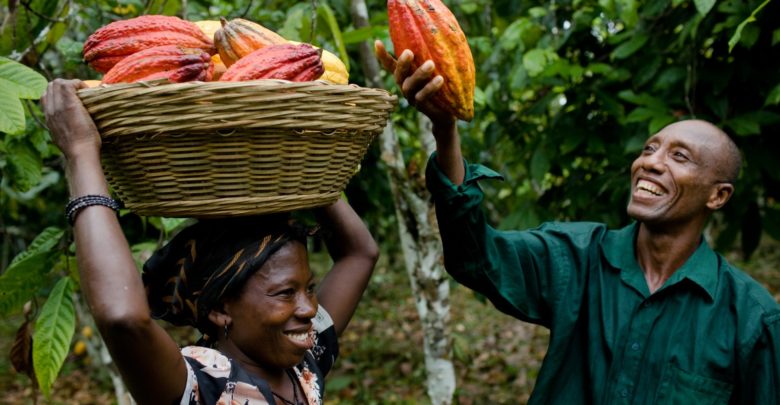 Trees grow naturally on many cocoa farms, providing shade for the delicate crop. But they belong to the state, not the farmers
A policy that grants farmers ownership of timber trees on cocoa farms in Ghana could help boost yields and curb deforestation, according to government officials and an industry group.
Cocoa farmer Wilson Archer poses for a photo with his tree tenure certificate in Nkwantanum, Ghana, June 27, 2018. Thomson Reuters Foundation/Nellie Peyton
Trees grow naturally on many cocoa farms, providing shade for the delicate crop. But they belong to the state, not the farmers, according to the West African country's forestry laws.
Companies pay the government a fee to log the timber, while cocoa farmers lose out, because their crops are often damaged in the process and become less productive under full sun.
But a little-known provision included in the forestry laws allows farmers to register ownership of timber trees that they have planted themselves.
Although the provision is not new, it had never been tested until this year, under a pilot project backed by the World Cocoa Foundation (WCF) in the Amenfi West district.
"We are educating farmers about their rights. They didn't know this was possible," said Alex Tweneboa-Kodna, a forestry commission manager in Asankragua, the district capital.
The project helped 150 farmers register ownership of timber on their farms. The WCF said it aims to spread the practice throughout Ghana, which is the world's second biggest cocoa producer after Ivory Coast.
"We were very excited when we heard about this," said Nana Archer, a participant in Nkwantanum, a poor cocoa-farming community that straddles a potholed dirt road.
Standing in his yard, among chickens pecking at the ground, the 53-year-old farmer showed a certificate from the forestry commission stating that he had planted and registered 30 shade trees.
Cocoa grows on lush hills behind his house, with no separation between farm and forest. Much of the area was logged about a decade ago, and the farmers – afraid loggers would return – did not replant timber trees, Archer said.
This is a common scenario, said Tweneboa-Kodna of the forestry commission.
In some cases farmers even destroy trees pre-emptively so that loggers won't come, according to a study this year led by United States-based non-profit Winrock International.
That could change if farmers begin registering the trees they plant.
Archer said that if the loggers return, he will show them his certificate to prevent them from cutting trees.
DRIVING DEFORESTATION
Cocoa farming has been a major driver of deforestation in Ghana, according to the government. When farms become unproductive, because the plants are old or unhealthy, farmers typically clear new forests for planting.
Re-planting timber trees on cocoa farms could help rebuild forest cover and reduce the pressure for further deforestation by boosting yields, said the Winrock study.
If farmers managed timber sustainably, they could also allow occasional logging as a source of extra income, said Sander Muilerman of the WCF, which represents over 100 companies including the chocolate giants Hershey's and Nestle.
"Moving toward a situation where farmers are more in control of the timber resources on their farms is beneficial to everybody, because even the timber companies have been running out of forests that they can still exploit," he said.
There are still kinks to work out.
So far, farmers can only register trees they have planted, but advocates are pressing the government to apply the law to naturally occurring trees as well, said Muilerman.
Farmers also need the landowners' approval to register their trees, which can sometimes be difficult to secure.
The government is working on streamlining the process and several cocoa companies are interested in promoting it among their farmers, Muilerman said.
  By Nellie Peyton, Thomson Reuters Foundation. Visit (www.trust.org)