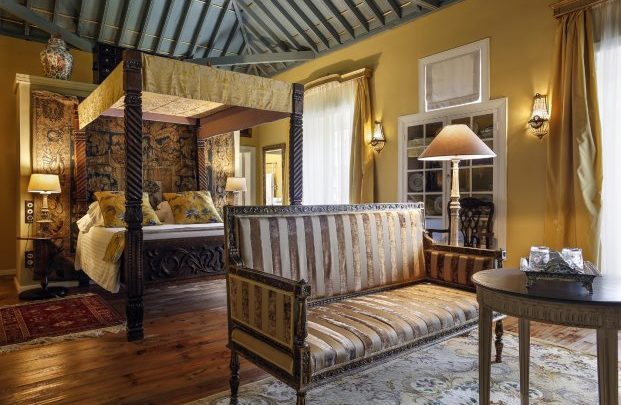 These days, resorts offering the "adults only" concept are becoming increasingly popular. Indeed: the peace and quiet, targeted facilities, cuisine, and entertainment sound very appealing. When all this is combined with lavish surroundings and unique historic heritage, the place becomes hard to resist. The esteemed experts of Luxury Lifestyle Awards are happy to recommend a resort that exceeds all expectations — Hotel Hacienda de Abajo, this year's winner in the category of The Best Luxury Hotel in Canary Islands, Spain.
Hotel Hacienda de Abajo boasts a superb location on the west side of the La Palma Canary Island, in the historic center of Villa y Puerto de Tazacorte. This Spanish municipality is lucky to get the most hours of sunshine a year. Offering 32 beautifully decorated rooms and suites today, Hacienda de Abajo will also surprise the guests with its original history. This used to be a XVII century sugar estate, recognized by the Canaries' Government as an integral part of the Historic Heritage of the Canary Islands. Thanks to this fact, Hotel Hacienda de Abajo received a rare status of an "Emblematic Hotel".
"The team and management of Hotel Hacienda de Abajo would like to extend a sincere gratitude to LLA's experts for recognizing our resort. It is an honor for us to receive such a world-class award. In addition to this, it is definitely an important milestone for the company: this achievement means we can look back on our hard work, our efforts and ideas, and say that all of it hasn't been in vain. Moreover, we can confidently walk into the future with new creative solutions and the motivation to work even harder than before," states Javier Navarro, General Director of the hotel.
Hotel Hacienda de Abajo has been welcoming guests all year round since 2012, and is operating under the highly popular "adults only" concept. The lavish Bath House (Spa) offers superb treatments and ultimate relaxation in this paradise, surrounded by the ocean and botanical gardens. A gourmet á-la-carte restaurant "El Sitio" and a Bar-Cafeteria with an outdoor terrace will make the experience complete by providing delicious food and drinks for every taste. Hotel Hacienda de Abajo proves to be the perfect place for a memorable luxurious vacation.
About Luxury Lifestyle Awards
Luxury Lifestyle Awards is a global award selecting, recognizing, celebrating and promoting the best luxury goods and services all over the world.
The goal of the company is to connect people with the best of luxury. LLA has evaluated more than 10 000 various goods and services in 400 categories from 60 countries and analyzed the results to give you a TOP list of the best of the best in the world. Such world-renowned brands as Chanel, Dom Perignon, and Ferrari were proudly named winners. The victory brings companies status and recognition, global promotion and exposure to an entirely new market of customers.
For more information, please visit: https://luxurylifestyleawards.com/