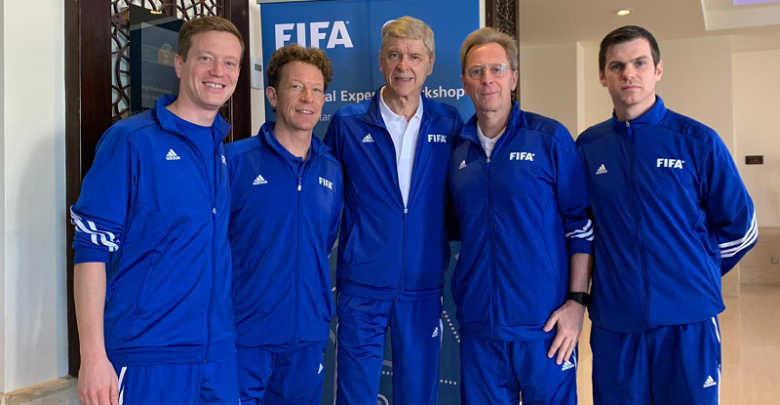 Double pass, a spin-off company of the University of Brussels (Belgium), specialised in sport technical and talent development management, has been chosen as the partner to roll out FIFA's new groundbreaking Talent Development Programme.
Steve Martens (FIFA Technical Director) & Hugo Schoukens (CEO & Founder dp)
"FIFA wants to ensure that each talent gets a chance and each Federation gets the opportunity to optimise their talent development system. Over time, this will lead to a more balanced competitive landscape. This High Performance Programme will analyse and support Football Federations and Clubs/Academies with regard to their processes to set up a sustainable, long term talent identification and development programme" dixit Arsène Wenger (FIFA Chief of Global Football Development).
teven Vansina (general manager dp), Jo Van Hoecke (project manager &Founder dp), Arsène Wenger (FIFA Chief of Global Football Development),
Hugo Schoukens (CEO & Founder dp), David Pauwels (project manager dp) during a five-day FIFA Technical Development Workshop in Doha, Qatar.
This worldwide project, in which it is expected 120 nations will participate, will be rolled out in several phases:
The analysis phase :  From April – September 2020
FIFA will conduct an analysis of the eco-system of all their Member Associations and double pass will conduct an on-site and online analysis of different academies (Men and Women) within every nation. In total 360 academies on-site and 1560 academies online will be analysed.
The reporting phase : From October – December 2020:
Every academy will receive an individual report from double pass with clear findings, benchmarks and recommendations. In addition, all nations will receive a report about their academies. These reports of all nations will be integrated in the global FIFA eco-system report.
The supporting phase and incentive programme :  From 2021 onwards:
Based on the findings of the analysis, a supporting phase will start in which tailored technical support programmes for federations and academies will be implemented across all nations that participated in the analysis phase.
About 15 talent development experts from double pass will be involved in this project to create this unique picture of football academies all over the world.
This is a game changing project for double pass and we absolutely look forward to this journey together with FIFA!
"After having worked in 18 countries in the world, we are proud to be able to spread our expertise on a truly global scale in order to change the game!" Hugo Schoukens (CEO & Founder of double pass)
YouTube : https://youtu.be/3tPlHzTWbTw
About double pass: double pass brochure EN.pdf