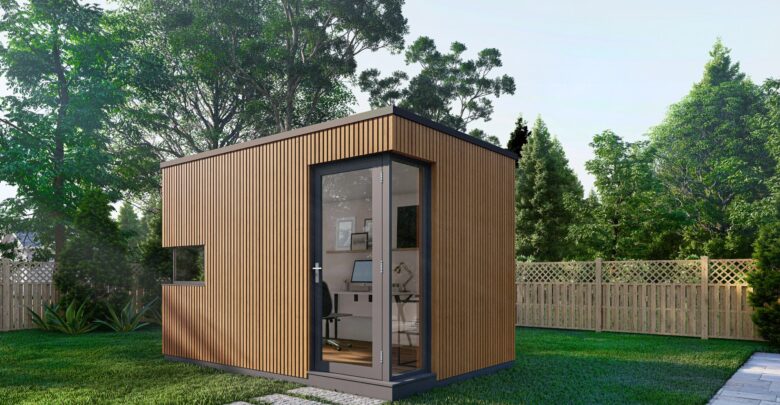 TWO entrepreneurs have teamed up to buy a brand of state-of-the-art garden rooms for use as work-from-home offices or extra living space.
The Covid-19 pandemic has prompted pressure on space, with parents and children often needing to work from home, as well trying to find room for their leisure activities.
YouKube is an all-in-one solution which can be adapted as an office, children's playroom, gym, studio, sauna or other use at a fraction of the cost of adding an extension to a house, and usually doesn't need planning permission.
Eddie Black, managing director of proven solutions business Eco, and Darren Cardwell, managing director of lifts design experts Axess 2, have joined forces to form Eco Axess and have completed a deal to buy the YouKube brand and its original design from Costin Group.
Eco Axess will look to maximise its knowledge and expertise in the sector to grow YouKube's business across the UK by creating diverse bespoke offerings and reach different markets with an enhanced quality product. 
Eco already serves the whole of the UK from its bases in Scotland and Cumbria, with Axess 2 also operating nationwide from its headquarters in Lancashire.
Eco, which is building its own state-of-the art HQ in Annan due to open early in the New Year, operates across a range of sectors to deliver multiple products and services for commercial, industrial, public sector and residential customers. 
The family-owned group, which employs more than 50 people, has also received praise for the way it has adapted to the pandemic to provide rapid response solutions for industry and the medical sector.
Among its services it offers design and build solutions, communications and IT solutions, and dry ice manufacture and supply – the latter vital for the transportation and storage of any Covid-19 vaccine.
Eco also owns Ghyll House design and upholstery which supplies a range of customers with bespoke interiors solutions in both residential and commercial markets, including the hospitality industry and health sector.
Eddie said: "This is a really exciting opportunity. It's great to team up with Darren and maximise the knowledge, experience, expertise and contacts of both businesses.
"Darren and I have both continued to take a proactive approach to business during the pandemic. 
"We both have a positive can-do attitude of how we can increase the range of quality, cost-effective solutions which we are able to offer customers. 
"YouKube is a perfect fit for the solutions which we both provide. It has the potential to really help people in their work, business and home lives. 
"The sky's the limit as to what YouKube can be used for. We can provide a bespoke fit out for a client or business' needs.  
"People have said they would like to use them as a bar or a sauna in their gardens to make more use of their outside space. 
"Businesses could use them for staff, both inside and outside buildings. Hotels and spas could use them as changing rooms for swimming pools. They offer so much versatility, the applications are endless.
"We are delighted to get the deal completed and we are now looking forward to getting started and building the business." 
Axess 2, based in Clitheroe, are manufacturers, designers and suppliers of passenger lifts, bespoke lifts and specialist products for 'people movement' and goods/service transport. Axess 2 are no strangers to the home design market, with multiple projects completed for Grand Designs and The Restoration Man.
Darren said: "At Axess 2 we pride ourselves on the quality of our designs, and our products, ensuring we offer the best possible people movement solutions to our clients.
"Eddie and I have worked together on projects previously and we are both of a similar mindset in how we achieve our goals as a team.
"YouKube is a business with enormous potential and we are looking forward to using the wealth of experience and talent which exists across both companies to take the business to the next level."
Eco Axess will be based in multiple locations, utilising both companies' facilities and expertise. 
To find out more about YouKube visit www.youkube.co.uk or phone 01200 403060.
Eco, which employs more than 50 staff from its headquarters in Annan, in Dumfries and Galloway, operates across a range of sectors to deliver multiple products and services for commercial, industrial, public sector and residential customers. 
To find out more about Eco's range of solutions go to www.teameco.co.uk or email response@teameco.co.uk
Ghyll House Upholstery and Design, which is owned by Eco and based near Cockermouth in Cumbria, offers a range of design and interiors solutions to commercial, public sector and residential customers. For more information visit www.ghup.co.uk
Axess 2 offers an extensive range of lift solutions, from panoramic glass passenger lifts for public buildings, to luxury home lifts from its bespoke design service range, and lifts for a wide range of other settings in both the residential and commercial sectors. For more information visit  www.axess2.co.uk or email info@axess2.co.uk
To find out more about YouKube visit www.youkube.co.uk or phone 01200 403060.