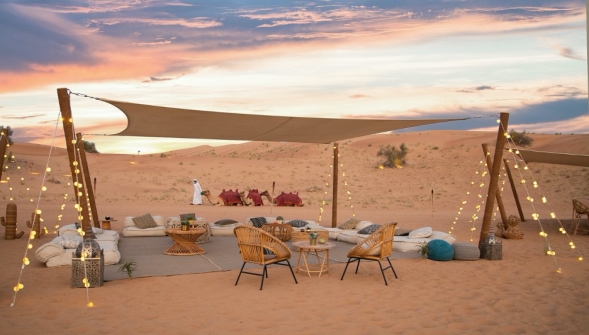 Tropical Islands, snow-clad mountain slopes and wildlife safaris are one thing, and highly sought-after travel experiences. But there is another sensational destination that is taking up all the limelight right now – a luxury adventure in the heart of the desert – the sand dunes of Dubai. The Nara Desert Escape, latest tourist hot-spot and on the wish list of many avid travellers, have recently clinched the prestigious Luxury Lifestyle Awards in the category of The Best Luxury Experience in Dubai 2020. An exceptional achievement, considering the array of high-end experiences available in 'the city of life', Dubai
The stillness and vastness of the desert comes alive with opportunity and dreams, at Nara Desert Escape, where guests can customize their experience down to the last detail. A gastronomic affair explodes with a buffet of international menu options, expertly prepared by the talented French Chef, Franck Sanna. Dine under the star-studded night sky, and enjoy cuisine ranging from Vegan, Tex-Mex, Italian, Nara Signature Barbeque, Japanese and Fine Dining – something delicious for everyone!
Overnighting becomes a sublime adventure, staying in luxury nomadic tented camps, privately set up for you. There are two tent options of 30 square meters in size, depending on your needs. Exuding comfort and Arabian hospitality, this is a once-in-a-lifetime experience. Guests can also look forward to a delicious breakfast after a heavenly night's sleep!
Activities at the luxury desert escape abound – and range from deeply relaxing to exhilarating adventure. Guests can meditate, take a yoga or shiatsu class, or book a healing Thai massage. Alternatively, volleyball, archery, sand boarding and camel rides for more energetic exploits. Celebrate desert and Arabian culture being entertained by belly dancers and fire shows at night and study the stars and planets with an astronomer for a uniquely inspiring educational session. Kids will love watching movies under the stars, treasure hunts, pajama parties and host of other interesting pursuits.
Stephanie Danial, founder of Nara Desert Escape, responded to the news of the award saying "Providing exceptional experiences that people take back with them forever, is part of my life's work. To showcase the purity, beauty and life in the desert is a joy for me and my team. Thank you, Luxury Lifestyle Awards, for this great recognition".
About Luxury Lifestyle Awards
Luxury Lifestyle Awards is a global award selecting, recognizing, celebrating, and promoting the best luxury goods and services all over the world. The goal of the company is to connect people with the best of luxury. LLA has evaluated more than 10 000 various goods and services in 400 categories from 60 countries and analyzed the results to give you a TOP list of the best of the best in the world. Such world-renowned brands as Chanel, Dom Perignon, and Ferrari were proudly named winners. The victory brings companies status and recognition, global promotion, and exposure to an entirely new market of customers.
For more information, please visit: https://luxurylifestyleawards.com/
Like us on Facebook: https://www.facebook.com/LuxuryLifestyleAwards/
Join us on Instagram: https://www.instagram.com/luxurylifestyleawards/