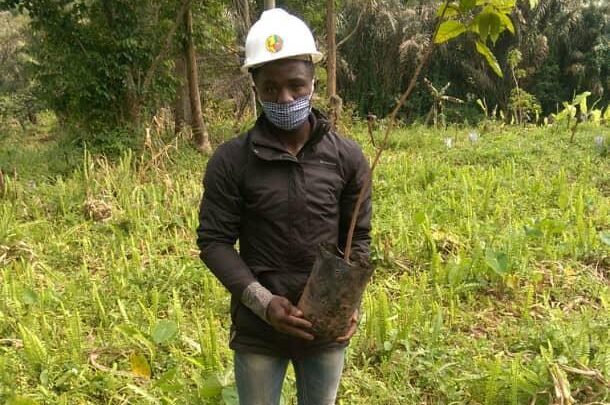 I am called BARRY NYUYDZE BERRY, I originate from Cameroon situated at the center of Africa. I come from the North West Region from the ethnic group Nso. I am currently a student in the UNIVERSITY OF DSCHANG WEST REGION. I read environmental sciences. As a Cameroonian I speak ENGLISH and FRENCH and taking part time classes in GERMAN and SPANISH with aim of being trilingual. Cameroon called African iminature. Because everything you find in Africa is found in Cameroon.  My religion is catholic but I respect all faith.  I play basketball, volley ball, handball, and I try in football. I write poems and love to be around children because I believe children are a source of smile and they teach a lot. 
PASSION
 My passion is to be a great climate change activist and also try to make the SDGs to reach all parts of the world especially in rural communities. I wish to work with the UNITED NATION ENVIRONMENTAL PROGRAM (UNEP). I Started my environmental works at the age of 7. Due to this I choose the SDGs  13 CLIMATE ACTION. From 7 till date I have planted 500 trees with hope of planting at least 3000 trees in my country Cameroon and Africa at large while not the world.  My passion is to save the world and every day I am inspired by the people I work with. Majority of works are in RURAL COMMUNITIES and I work mostly with children and youths of my age we want to make RURAL COMMUNITIES sustainable environmentally friendly and respecting to the rules of nature.

PROBLEMS
  Our world especially mother nature is facing a lot of climatic problems climate change, floods, increase temperatures, deforestation, soil erosion, drought not leaving out desertification. At age 7 I was touched when I watched a documentary on the effect of tsunami in Indonasia 26th December 2004. The highest problem is man due to her action they enforce on the world. Also, the problem we face, is trying to change the mentality of man in rural communities and face the problem of finance in the purchase of projects accessories.  So it's time for us to act.
SOLUTION
My way of fighting this problem is by SENSITIZATION and TREE PLANTING. For the future. According to research one tree reduce at least 25-50% of Co2 from the atmosphere then imagine 1000 trees. So due to these, my government has encouraged me with themes like (OPERATION GREEN SAHEL, ONE CITIZEN ONE TREE, CUT ONE TREE PLANT TWO). I have choose to make my world a better place by planting trees and I calling on all youths from ASIA, EUROPE, NORTH AMERICA, SOUTH AMERICA and MAMA AFRICA. Let's hold our hands together and make the world a better place so that our enemy climate change will be history not a reality. OUR ENVIRONMENT OUR FUTURE.  PLANT TO MAKE THE WORLD A BETTER PLACE.
 We call on your help be it financially, materially we will be pleased. You can contact me through;
E-mail; smithbarryberry@gmail.com
Facebook; smith barry berry mcbernad
Instagram; smith barry berry
Whatsapp; +237698-84-54-22.
Source: Climate Daily Effects (C.D.F) is a social media platform that share stories and solutions to climate crisis in everyday life. C.D.F is presented to you Friday of every week by LYCA 's Climate Education Coordinator Miss. Kadiatu A. Sheriff. Climate Daily Effects is an initiative of  Liberian  Youth for Climate  Actions (LYCA)
You can share your stories and solutions to us (LYCA ) through these media: Nyanfor7077@gmail.com, lycactions@gmail.com , Whatsapp (+231776882413), Follow us on Facebook @LYCActions
www.delreport.com