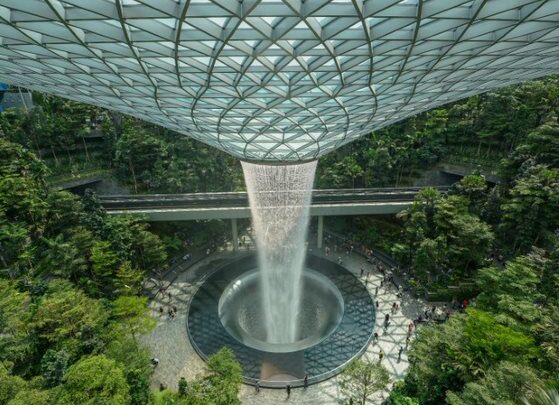 Designed as an extension of Singapore's reputation of being a City in a Garden, Jewel Changi Airport has become an iconic landmark on the Singapore Skyline. Clinching the Luxury Lifestyle Awards in the category of The Best Luxury Shopping Malls in Singapore, Jewel Changi Airport has shown how bold and ambitious decisions can transform a cement-filled parking lot into an indoor paradise. With retail outlets and eateries integrated with elements of nature, visitors at Jewel can enjoy an unparalleled shopping and dining experience while relaxing in lush greenery.
Jewel Changi Airport is an impressive structure built at the heart of Singapore Changi Airport, which has cemented its status as one of the best airports in the world. The decision to build a mixed-use development was made in 2013 in conjunction with the expansion of Terminal 1 and the redevelopment of the open-air carpark. A year later, construction work began, and in April 2019, Jewel opened its doors to visitors.
Designed by the renowned architect Moshe Safdie, the complex has 10 floors with 5 floors underground and 5 above it. Offering more than 280 shopping and dining options, Jewel boasts a world-class tenant mix with shops and eateries which includes strong stable of new-to-market and well-established brands as well as Jewel-exclusive concepts and merchandise, ensuring there is something for shoppers and travelers from all walks of life.
The most impressive attraction is the HSBC Rain Vortex, located right in the centre of Jewel. The majestic 40-meter waterfall is a giant column of water falling from an oculus in a glass roof and is the world's tallest indoor waterfall. In the evening, the waterfall turns into a spectacular light and sound show that enthralls visitors.
Closely echoing Singapore's reputation as a "city in a garden," Jewel Changi Airport invites you on a wow-inspiring stroll through the picturesque Shiseido Forest Valley, a four-story terraced garden surrounding the HSBC Rain Vortex. Here you'll discover carefully selected amazing plants from around the world, including 2,000 trees and palms and over 100,000 shrubs that will make you forget you're in the heart of the metropolis.
For an even more impressive experience, Luxury Lifestyle Awards experts recommend a visit to the Canopy Park, located on the upper level. Don't refuse yourself the fun of trying the pair of Manulife Sky Nets that are stretched across high levels above ground or challenge your fear of heights by walking across the glass-bottomed Canopy Bridge.
For travelers to Singapore, you will find early check-in services and baggage storage facilities at Jewel for your convenience. You can also stay and recharge in one of the smartly designed cabins at YOTELAIR Singapore Changi Airport, the perfect place for business travelers and transit passengers to relax and rejuvenate.
About Luxury Lifestyle Awards
Luxury Lifestyle Awards is a global award selecting, recognizing, celebrating and promoting the best luxury goods and services all over the world. The goal of the company is to connect people with the best of luxury. LLA has evaluated more than 10 000 various goods and services in 400 categories from 60 countries and analyzed the results to give you a TOP list of the best of the best in the world. Such world-renowned brands as Chanel, Dom Perignon, and Ferrari were proudly named winners. The victory brings companies status and recognition, global promotion and exposure to an entirely new market of customers.  https://luxurylifestyleawards.com/