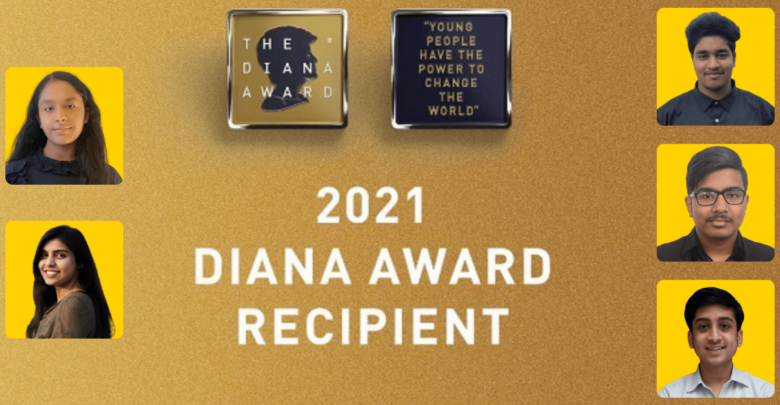 EARTHDAY.ORG's My Future My Voice Youth Ambassador Aditya Dubey, from India, is the latest EDO youth ambassador to be honored with the prestigious 2021 Diana Legacy Award. Aditya is part of the EARTHDAY.ORG initiative, My Future My Voice, launched on Earth Day 2020. The program places youth's role in climate discussions and action center stage and works to solidify this dynamic youth network. As responsible, environment-friendly citizens in different countries, each of those admitted to My Future My Voice does exceptional work. Across borders and regions, the youth share tried and tested techniques to help restore our Earth, and thus enhance efforts to stymie climate change. Presently, 180 youth leaders from 89 countries and 6 continents are part of the initiative.  
All of 18 years old, Aditya Dubey is the founder of Plant a Million Trees, India, an organization that has already planted over 180,000 trees to help fight air pollution. His petition before India's Green Tribunal against e-commerce has resulted in the popular online e-commerce company, Amazon which has an annual delivery of 4.2 billion parcel shipments, shifting to plastic-free packaging as well as Burger King also announcing they would disallow single-use plastics in their facilities across India. 
EARTHDAY.ORG is equally proud of all of the youth ambassadors in My Future My Voice who have received the Diana Award this year. Aditya Mukarji's campaigns against single-use plastic have resulted in restaurants and cafes in India's capital city, New Delhi, replacing 26 million plastic straws with sustainable alternatives such as bamboo straws. Alisha Arora, founder of HopeSisters from Canada, was awarded for her and her sister's work to empower young people and become 'HopeSpreaders.' Jenk Oz is the founder of Thred Media. Established in the U.K., the organization focuses on inspiring and supporting Generation Z to be effective stewards of the environment. With the active participation of youth from over 140 countries, his aim is becoming a reality. A brilliant communicator, Jenk has already given three TEDx talks and partnered with several organizations such as Global Citizen. Kaif Ali, a student, studying architecture in India, received the award for designing a prefabricated building to help reduce transmission of the COVID-19 virus and house refugees worldwide. This design is now implemented in Lagos, Nigeria, and recognized by India and the United Nations.
Others who are part of EDO's youth initiatives and also recipients of the Diana Award in previous years include Nav and Vihaan Agarwal from India, who received the award in 2019 for founding an NGO, One Step Greener, that works to increase the green cover as well as ensures the proper disposal of waste and a reduction to zero waste. To date, they have reached 40,000+ people through their talks and trainings, recycled over 127,850 Kgs of waste, planted 3,294 trees. Garvita Gulhati from India was honored in 2020 for her awareness work towards water conservation. She founded the organization Why Waste? to help change mindsets and habits that led to the waste of water.
To read more about the awardees and learn about their inspiring work, please visit: https://diana-award.org.uk/roll-of-honour-2021/
To learn more about EARTHDAY.ORG's My Future My Voice initiative, please visit: https://www.earthday.org/my-future-my-voice/
About EARTHDAY.ORG: 
EARTHDAY.ORG – India's efforts to Restore Our Earth include initiatives to regenerate the green cover, recharge aquifers, rejuvenate soil, reduce air pollution, encourage responsible consumption, and manage waste. EARTHDAY.ORG's mission is to diversify, educate, and activate the environmental movement worldwide. Growing out of the first Earth Day (1970), EARTHDAY.ORG is the world's largest recruiter to the environmental movement, working with more than 150,000 partners in nearly 192 countries to build environmental democracy. More than 1 billion people now participate in Earth Day activities each year, making it the largest civic observance in the world. Learn more at earthday.org.
If you know any youth environmental leader who could be an ideal candidate to include in our My Future My Voice initiative, please write to OfficeofRegionalDirector@Earthday.org. The proposed candidate needs to be below the age of 30 and must have an already proven track record of exceptional work for the environment. Learn more about the initiative at https://www.earthday.org/my-future-my-voice/