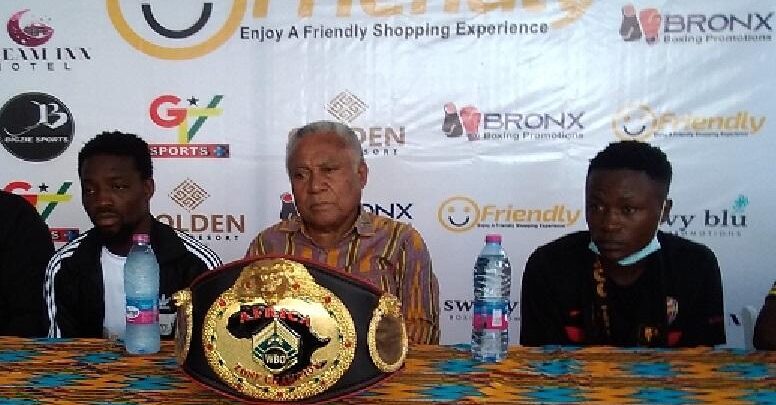 GBA President Abraham Kotei Neequaye has commended sponsors of the Renaissance Boxing event  which comes up at the Golden Beach Resort on December 10.
Speaking at the Media Launch of the Swavy Blu and Bronx Boxing Promotions bill, he tasked the media to support businesses behind boxing in Ghana. He said the press must let the world know that boxing is the number one sport.
The GBA President urged Ghanaians to pray for Sheriff Quaye to win handsomely.
The sponsors include Golden Beach Resort, Dream Inn Hotel and Friendly Mall.
Representative of WBO Africa / former GBA President, Samir Captan said may the best boxer win. He appealed to the media to hype all boxing fights in Ghana.
Promoter's PRO Perry Martey said it will be a great night and urged fans to come and watch. He mentioned the rates as 100ghc, for Ringside, 50ghc for executive and 20ghc for popular stand.
Coach Carl Lokko of the Bronx Boxing Gym who trains Sheriff Quaye said he wants more titles in his stable and wants to win to prove that the nation has the capability and capacity to win more titles.
Emmanuel Amos (16 – 5- 1) said he is happy to come to Ghana and will put up a good show. He warned his opponent that he has prepared very well as he is also a champion in Tanzania. He thanked the people of Ghana for the opportunity.
Sheriff Quaye said he has also prepared and ready to seize the chance. He warned Amos that if he is able to finish the 12 round, he will go home with a problem.
"Sheriff Quaye is now the Renaissance and I am coming in a new package, so I want my fans and supporters to stand up with me. I thank my coaches and gym mates for supporting the build up" he expressed.
By Daniel Nyarko