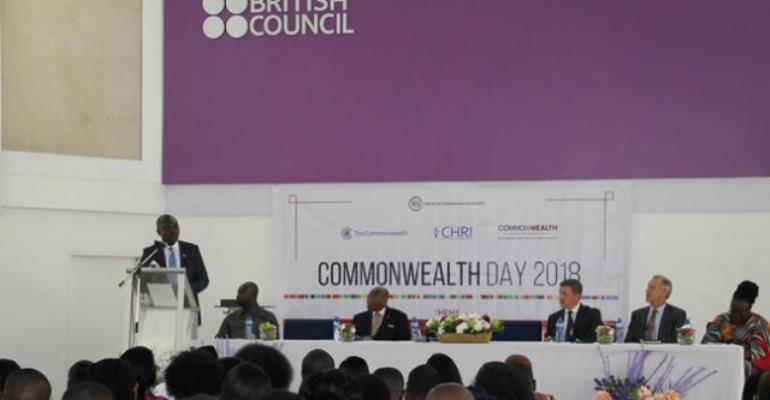 The Ministry of Foreign Affairs and the Commonwealth Representatives in Accra have celebrated Commonwealth week in grand style in Ghana.
Under the Commonwealth theme 'Towards a Common Future', celebrations began on the 10th of March 2018 with a 5-kilometre walk by students, staff of the Foreign Ministry, staff of the Commonwealth and diplomatic agencies, police and army personnel and other members of selected civil society organisations.
On the 12th of March 2018, Commonwealth Day was celebrated at the British Council auditorium. The event was packed to capacity with several distinguished personalities, school children and civil society groups.
Children from La Wireless Cluster of Schools, Accra Academy, Accra Girls, Dzorwulu A and B and Kinbu SHS read various portions of the Queens speech to ecstatic cheers from the audience.
The event witnessed a lively Commonwealth Heads of Government Meeting simulation, from Students of the Ghana International School. The focus of their debate was on the protection of the environment.
Winners of the Queen's Commonwealth Essay Competition, which is in its 135th year, were also recognised at the Commonwealth Day celebration. Gold, Silver and Bronze recipients of the awards included students from Kabore SHS, Ho; VRA School, Akuse; Apam SHS, Apam and Ghana International School, Accra. Other winners were from the MCS International High, Accra; Manya Krobo SHS, Odumase Krobo; Galaxy International School, Accra Holy Childhood International School, Akatsi, and The Roman Ridge School, Accra, who won a special award for overall Best Performance.
Representing the Minister of Foreign Affairs who was away in India, with the President of the Republic of Ghana, Mr. Charles Owiredu, Deputy Minister of Foreign Affairs and Regional Integration gave a rousing speech on the significance and relevance of the Commonwealth in today's International Affairs arena.
On his part, the British High Commissioner to Ghana, H. E Iain Walker, emphasised the need to recognise the fiscal potential of trade, in the trillions of dollars, that occurs in Commonwealth each year.
Mr. John Apea, Commonwealth Representative for the Africa Region, echoed the sentiments of the Minister, by delivering a heartfelt speech, touting the achievements of the Commonwealth of Nations and its role in fighting historic battles such as apartheid in South Africa.
The week's events also saw a student-led symposium on Technical and Vocational Education at the Accra International Conference Centre on the 15th of March 2018. This was followed by an Arts and Crafts fair on the same premises.The Commonwealth is made up of 53 independent countries that work together to pursue common goals which promote development, democracy and peace.
Its combined population is 2.4 billion, of which more than 60 percent are aged 29 or under. Its head is Queen Elizabeth II, Head of the Commonwealth.
MyJoyOnline