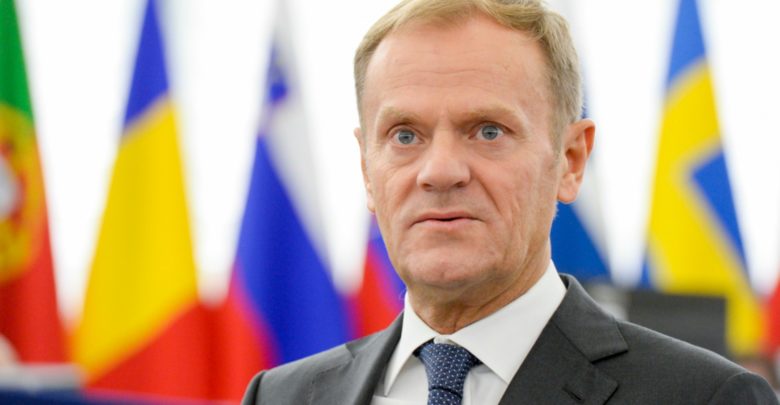 He really meant it.
EU officials said there was no coded message — or larger tactical ploy — in European Council President Donald Tusk's provocative comments about Brexit on Wednesday.
Tusk jolted many in the U.K. by suggesting there was a "special place in hell" for British officials who promised it was possible to quit the EU without knowing how to accomplish it.
His remark, at a joint press conference with Irish Prime Minister Leo Varadkar in Brussels, came a day before British Prime Minister Theresa May is due in town for meetings in which she is expected to ask to renegotiate the Withdrawal Treaty agreed to in November but which was overwhelmingly rejected by the House of Commons.
Tusk's "hell" comment was a parting jab, following a longer lament — a concession in many ways — that there was no one in political leadership in the U.K. willing to try to stop the U.K.'s departure. Instead, he said, preventing a disastrous no-deal scenario should be the top priority.

But it was the hell comment that set British officials and commentators aflame, prompting some to liken Tusk, a mild-mannered former Polish prime minister, to Satan, a fork-tailed devil, or worse.
Officials close to Tusk said the outrage at his outrage was misplaced. He was just speaking his mind.
"It was a genuine expression of his deep frustration at the situation, at the mess we find ourselves in now," one official said, dismissing conjecture about Tusk's ulterior motives as empty conspiracy theories.
Tusk was particularly miffed at the blame frequently directed at Brussels. "He was not insulting the British voters — not at all — it's not their fault," the official said. "It's the people who led them, or misled them."
EU officials and diplomats in Brussels and across the Continent have said a vote by the House of Commons demanding alternative arrangements to the Northern Ireland backstop have changed nothing.
EU leaders in December said that unless May came back with substantive changes to the U.K.'s red lines, there was nothing they could do beyond sticking to the treaty agreed in November.
EU officials are not convinced that changes suggested to the backstop, including an expiration date of the exit clause, would sufficiently change the math in the Commons. May insists otherwise but her credibility has suffered in recent weeks. First, she postponed a ratification vote after insisting for weeks it would go ahead. Then she endorsed an amendment demanding renegotiation after repeatedly saying the agreed-upon deal was the best possible offer and could not be reworked.
Throughout the Brexit process, Tusk has largely worn his feelings on his sleeve. At one point, he quoted John Lennon's "Imagine," saying that perhaps he was a dreamer for hoping the U.K. would change its mind.
At a leaders' summit in Salzburg, Austria last fall, he similarly infuriated the British side by tweeting a photo of cake — a tongue-in-cheek dig at Britain for, in the EU's view, wanting to have its cake and eat it.
The "hell" comment was not in jest, even in the slightest. With just 50 days to go before the Brexit deadline, EU officials are deeply worried about the risks of a no-deal outcome and feel powerless to help the U.K. reach any sort of national consensus — not only on the backstop but in terms of what the country wants in a future relationship.
Though there were suggestions among Tusk's critics that his statement might have been a masked plea for someone in government to begin pushing for a second referendum, in Brussels it was regarded as a realist's gesture of surrender — the lament of a man for whom Brexit is his own living hell.
By DAVID M. HERSZENHORN, politico.eu