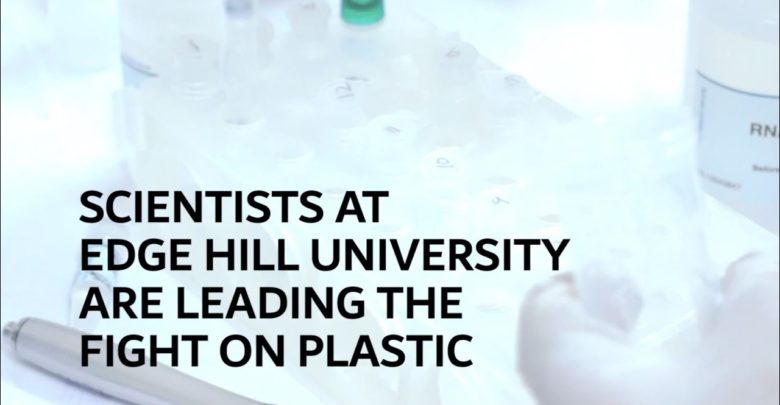 Biologists in Edge Hill University's laboratories are recycling 100% of non-hazardous gloves used in vital and potentially life-changing research.
The achievement puts the University in first place in the North West with help from the Kimberly-Clark Professional™ RightCycle™ scheme, enabling scientists to correctly define waste to avoid it going to landfill or unnecessary incineration.
Biologists are Edge Hill University are recycling 100% of all non-hazardous nitrile gloves 
Lab Manager Matt Smith who is championing the recycling scheme, said: "Here at Edge Hill University we pride ourselves in being a green and sustainable campus, and we feel that should be echoed across all departments.
"In the Biology department specifically, we have industry-standard equipment that students can benefit from and develop their practical skills. As a result of that, the student numbers have increased two-fold, but obviously the catch to that is the more science we do, the more lifesaving research that we conduct, the more waste we produce.
Biotech Lab Manager Matt Smith 
"One of the ways that we've been able to improve is via the Kimberly-Clark Professional™ RightCycle™ waste scheme, which essentially enables us to recycle all of our non-hazardous nitrile gloves, saving them from unnecessary incineration or going to landfill."
Six months ago, all the hazardous and non-hazardous waste produced in the University's labs followed the same waste disposal process, but since the introduction of the scheme, around 75% of all the labs' non-hazardous plastic waste is being recycled.
The scheme allows those using the labs to easily define hazardous consumables and products before disposing of them in correctly labelled bins. Once the bins in the lab are full, they are emptied into a large ton-sized bag, which is then taken to a recycling centre to eventually be turned into long-life-cycle products such as planters, garden furniture and surfaces for children's playgrounds.
Robert Hunt, Kimberly-Clark Professional™ Scientific Sales Manager for the North of the UK, said: "Edge Hill University is the first university in the North West of the UK to sign up to the RightCycle™ scheme.
Kimberly-Clark Professional Scientific Sales Manager for the North of the UK, Robert Hunt (left) and Biotech Lab Manager Matt Smith
"They have embraced the scheme, starting it very quickly and have already set the process up in the laboratories. It's really great to see and they are doing a fantastic job and are already collecting the gloves."
Some of the research projects ongoing in the labs include the development of new antibiotics, the understanding of mosquitos as carriers of human disease and gene therapies in the pursuit of a treatment for cystic fibrosis.
Matt added: "We're fortunate that in the sciences, everyone is like-minded; they're interested in saving the planet, and they don't want to produce as much waste, which is intrinsic to scientific research.
"I would encourage everyone working in a laboratory setting, whether that be a university or in industry to recycle as much as they possibly can. It is everybody's responsibility to make that difference."
Edge Hill University's BSc (Hons) Biology course is accredited by the Royal Society of Biology, entitling students to a free, year-long associate grade RSB membership on graduation.
To find out more about the Biology courses on offer or to book an open day, visit: edgehill.ac.uk/study/undergraduate/biology-and-biosciences
About Edge Hill University
The award-winning Edge Hill University was founded in1885 and is based on an attractive 160-acre campus in Lancashire, close to Liverpool and Manchester. A friendly, diverse community, offering high quality teaching, support and transformational opportunities, it's a place where students discover ideas, subject knowledge and achieve their full potential.
Our significant success in achieving our mission is recognised by a range of awards and high rankings for teaching, student experience, accommodation and more. Edge Hill is ranked as Gold in the Teaching Excellence Framework (TEF), the government's evaluation of excellence, and is one of a select few to have held the coveted UK University of the Year title (2014/15), awarded by Times Higher Education.