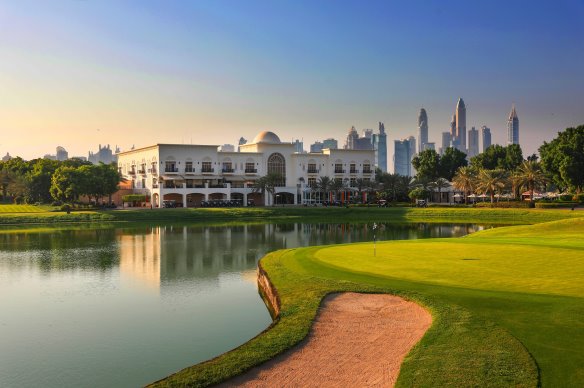 In the heart of Dubai, UAE, lies this destination for luxury with an escape from city life. Regarded as the premium place for golfing and leisure, this is the design of renowned golfer, Colin Montgomerie. With the best of luxury and comfort, beautiful gardens, lush golf course and the glitzy Dubai skyline from afar, this is a sought-after destination.  Address Montgomerie is this year's winner of Luxury Lifestyle Awards in the category of The Best Luxury Boutique Hotels in the UAE.
The property is close to the Dubai Marina, with downtown Dubai just a fifteen- minute drive. An oasis in the city, the place has a country living charm. The boutique hotel offers 22 rooms that have been refurbished with hues of green and pastel shades, a contemporary look with the best of facilities. There are four different categories of rooms, each with a unique view of either the lush green golf course, the elegant courtyard, or the stunning Dubai marina skyline.
Along with leisure, guests can also take golfing instructions with experts in the property. One can enjoy a relaxing day by the pool while enjoying stunning views of the 18th green and charming clubhouse. Unmatched gourmet experience preferred by connoisseurs, with an ever-attentive staff is what you can expect at Address Montgomerie. A state-of-the-art spa, with first class amenities, ensure ultimate relaxation of mind and body, using aromatherapy based essential oils. Guests can rejuvenate and refresh with massage therapy, body treatments and facials.
One of the major attractions of the property is, however, the state of the art IGENIE, an in-room, fully automated concierge. Guests can inquire on leisure activities, call for housekeeping, engineering and explore the internet for entertainment at the same time, at the touch of a fingertip and many more.
"We, at Address Montgomerie, are happy to have been recognised as the winner of The Luxury Lifestyle Awards in the category of the Best Luxury Boutique Hotels in the UAE. We do our best to ensure the greatest level of service to each of our guests and on behalf of the entire team, I thank the Luxury Lifestyle awards committee for this honour", Management said.
About Luxury Lifestyle Awards
Luxury Lifestyle Awards is a global award selecting, recognizing, celebrating, and promoting the best luxury goods and services all over the world. The goal of the company is to connect people with the best of luxury. LLA has evaluated more than 10 000 various goods and services in 400 categories from 60 countries and analyzed the results to give you a TOP list of the best of the best in the world. Such world-renowned brands as Chanel, Dom Perignon, and Ferrari were proudly named winners. The victory brings companies status and recognition, global promotion, and exposure to an entirely new market of customers.
For more information, please visit: https://luxurylifestyleawards.com/