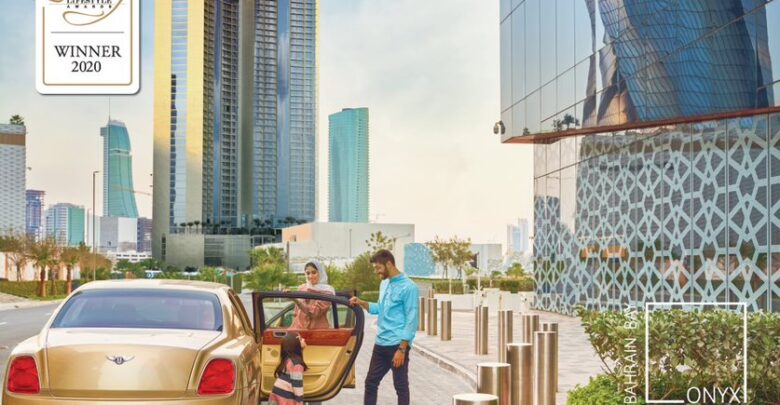 Sourcing a new luxury home can create the need to choose from leisure and work amenities, but compromise is far from the vocabulary of The ONYX Bahrain Bay.
Awarded the title of The Best Luxury Freehold Residential Apartments in Bahrain 2020 by the Luxury Lifestyle Awards panel, this residential project has successfully incorporated both leisure and practicality into one unique address.
Standing just a short distance from the Arabian Gulf the first experience of the building is a beautifully positioned site that provides enviable views over the sea and bay along with the busy metropolitan streets of Manama. Neighbouring buildings such as the Wyndham Grand and Four Seasons have also seen this unique area as the perfect situation for providing luxury experiences. Manama itself is known for its high-end shopping and lifestyle experiences, so naturally, this area provided the perfect foundations for The ONYX Bahrain Bay to establish itself as a leader in residential living.
It's double tower construction houses 400 beautifully designed apartments in a choice of two colour palettes. Aptly named The Madison and The Kensington, both designs feature the latest in technological integration along with the fine aesthetics befitting of a boutique residence. To provide residents with the full benefits of their location, each apartment features floor to ceiling windows allowing users to connect to the stunning backdrops that surround The ONYX Bahrain Bay. Interior design has been used to maximum effect to provide relaxing and rejuvenating spaces with textiles and lighting carefully selected to provide an overall feel reassuring luxury.
Creating a unique community is not just about building the property but also encouraging its inhabitants to connect and build a strong sense of belonging. Therefore, The ONYX Bahrain Bay introduced the ONYX Club lounge, a beautifully designed hub offering owners to connect and build relationships with similarly minded people. Sited on the sixth floor, the club offers a juice bar,
meeting room and business centre. The ability to create communal spaces that provide a feeling of connection resulted in an Indoor Garden area that provides a calm oasis away from the heat and bustling activity of Manama. Curated over 460 square metres, this landscaped area provides residents with a connection with the natural world and provides biophilic and rejuvenating benefits.
The well-being of its residents is paramount, whether this is providing the latest in fitness facilities or providing areas to relax. An onsite health club provides a ladies and mixed gym equipped with the latest in exercise equipment and a dedicated free weights area. The health club offers group exercise experiences with yoga and spin studios and for those looking to explore new heights, a climbing wall. A jogging track provides the perfect place to set goals before relaxing on an artificial beach.
Aquatic areas include indoor and outdoor pools. The outdoor pool offers a breath-taking resort-styled infinity experience with a 50-metre heated pool with far-reaching views over Bahrain Bay.
Residents wanting to combine their leisure and business facilities now can work and live without compromise. The business centre has been designed to incorporate all the luxury essentials for working along with meeting spaces befitting of the luxury nature of the building and the exacting standards of its residents.
Relaxing at the end of a busy week sees facilities such as the onsite cinema and shopping areas providing a welcoming escape.
Practicality is not forgotten, and an onsite maintenance team help provide around the clock support to help keep The ONYX Bahrain Bay looking and functioning seamlessly. A housekeeping team replenishes communal and residential areas while the reassurance of 24-hour security and secure private parking provides peace of mind.
The ONYX Bahrain Bay is standing proof that living without compromise can be achieved at the luxury end of the residential property market. From conception to fruition, the team have dedicated both an understanding of stunning design and a
grasp of luxury expectations that have been combined. Paired with superior onsite support, the property not only offers luxury for now but a lifetime of luxury living for its residents.
About Luxury Lifestyle Awards
Luxury Lifestyle Awards is a global award selecting, recognizing, celebrating and promoting the best luxury goods and services all over the world. The goal of the company is to connect people with the best of luxury. LLA has evaluated more than 10 000 various goods and services in 400 categories from 60 countries and analyzed the results to give you a TOP list of the best of the best in the world. Such world-renowned brands as Chanel, Dom Perignon, and Ferrari were proudly named winners. The victory brings companies status and recognition, global promotion and exposure to an entirely new market of customers.  https://luxurylifestyleawards.com/