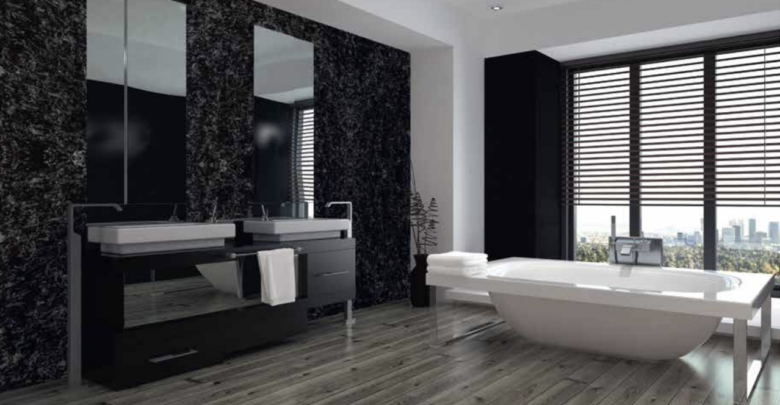 Antolini is pleased to announce their participation at the Kitchen & Bath Industry Show 2022 in Orlando, Florida – from February 8th-10th, 2022.
 Antolini, the global leader in natural stone, will be showcasing Mother Nature's exquisite beauty through the colors, patterns, and designs of their Exclusive Collection at KBIS 2022. Antolini brings forth a 40 by 40-foot booth in which attendees will be able to immerse themselves into oneness with the immaculate creations of Nature – a one-of-a-kind experience which redefines kitchen and bath spaces with a bold, new perspective towards contemporary design. At an expo heralded as "North America's largest trade show dedicated to all aspects of kitchen and bath design", it is only fitting that Antolini provides an exhibit that meets the magnitude of KBIS 2022 – which is why the company has chosen to also include the Antolini | Tech Collection, a collection of porcelain slabs that recreates patterns, designs, and veining of natural stones, in a way only Antolini knows best. As the undisputed leader in natural stone production, Antolini has the keenest eye to identify Mother Nature's most unique creations. Over 65 years of experience is culminated in the Antolini | Tech collection, resulting in the world's most realistic representation.
This unique manifestation of HAUTE NATURE features a unique kitchen flooring surface of Dover White, an Antolini exclusive, polished with a LUX finish. Each wall of the booth vows to be just as grand, unveiling Irish Green, another Antolini Exclusive, both book-matched at 45 degrees from the company's Alluminate Collection
– also in a LETHER finish. Bridging the gap between elegant grandeur and aesthetic practicality, the booth is complimented by a delightful work area highlighting Dover White in a LUX finish, and a state-of-the-art kitchen space presenting Antolini's revolutionary Azerocare process fashioned in Irish Green. Amidst the intricate flooring, walls, work area, and kitchen space, the extraordinary stripes, and surfaces from Antolini's Textures+ Collection are sure to amaze alongside the vibrancy of the Exclusive Collection and the ingenuity of the Antolini|Tech Collection.
MATERIALS USED
 Exclusive Collection
Curiosity and passion lead Antolini to explore the most remote places on Earth every day, searching for the most refined of Mother Nature's creations. The Antolini Exclusive Collection is the result of this quest: an exclusive
collection offering extraordinary materials from finest quarries all over the world. The brilliant surfaces of this collection to be showcased at KBIS 2022 are as followed: Belvedere, Bianco Lasa | Covelano "Fantastico", Black Cosmic, Black Ice, Calcite Azul "Extra", Corteccia, Cristallo Traslux, Elegant Brown, Explosion Blue, Macchia Vecchia Fantastico, Noirblanc, Patagonia "Original", Python Black, Quarzite Black Spider, Quarzite Cielo, Quarzite Naica, Silver Stream, White Super, Calacatta Brasil, Sahara Noir, and Taj Mahal. All of these materials will feature LUX + LETHER finishes, except for Elegant Brown and Noirblanc, which will be adorned with MATT + LETHER finishes.
Textures+ Collection
The Textures+ Collection features natural stone styled as if it were a fabric, causing the texture to stand out in a subtle interplay of tactile surfaces and sensations. With its delicate hues and harmonious hints of color it will add a sense of elegance onto any room. Amongst the many combinations of stones and finishes, the stunning compositions included in Antolini's KBIS 2022 booth will be Black Ice (Hydro Finish), Calacatta Brasil (Riven Finish), Corteccia (Rock Finish), Crema Marfil (Graffiti Design), Kosmus "A" (Stratos Design), Negresco (Riven Finish), Patagonia "Original" (Hydro Finish), Sequoia Brown (Stratos Design), Taj Mahal (Safe Finish), Matrix 3-D (Stratos Design), Taj Mahal (Petra Design), White Super (Stratos Oblique Design), and Taj Mahal (Fence Design).
Alluminate Collection
Alluminate reveals natural stone in all its individual splendor. Thanks to a unique machining process that significantly reduces the thickness of the slab without altering its aesthetics or strength, the material can be backlit thereby offering architects, designers and artists an extremely striking yet sophisticated product. Irish Green will be the surface used to exhibit the wonder of this distinctive collection, an ideal choice because of its varied veining, allowing unusual patterns to be created and showcasing a bookmatching process which makes any work absolutely unique and unrepeatable.
Azerocare
A revolutionary process for natural stone patented by Antolini, is designed to protect marble and onyx surfaces from staining and etching caused by contact with acidic food and substances. Azerocare is the ideal solution for surfaces in kitchen and bathroom spaces allowing stones to maintain their natural colors and characteristics unaltered. The Exclusive material chosen to present Azerocare is Irish Green: a marble that glorifies in shades of green, displaying uneven coloring and shading that passes from dark to light. Part of the Antolini range, this stone displays some whitish veins and others in a translucent apple color that makes this a unique stone in the world.
Antolini | Tech Collection
Antolini | Tech is a collection of porcelain slabs that recreates patterns, designs, and veining of natural stones, in a way only Antolini knows best. A composition of clay, sand, feldspar and kaolins are pressed and fired at extremely high temperatures to create a durable and versatile product. Antolini | Tech is a contemporary alternative for a wide range of both indoor and outdoor applications: from flooring and cladding to bathroom
and kitchen countertops and backsplashes. The materials from this collection on display at KBIS 2022 will be: Bianco Lasa "Vena Oro" (c.c.), Calacatta Extra, Calacatta Lincoln, Calacatta OMG, Calacatta Wow, Invisible Light, Lilac, Lincoln Stone, Sahara Blanc, Statuario Extra, Statuario Fantastico, Statuario Nero, Travertino Navona (v.c.), and Zebrino Bianco. All these natural materials will be in the "tech" design, and in a MATT finish
– with exception to Travertino Navona, which will display a SATIN finish.
PRESS BOILERPLATE
 Antolini is an Italian company driven by the entrepreneurial spirit of the Antolini family, known around the world for the selection, processing and distribution of the most exclusive and widest range of natural materials, prized for their unique colors, finishes and aesthetic characteristics, obtained thanks to the combination of fine craftsmanship and technological innovation.
Antolini's vision of HAUTE NATURE is a promise that every piece of Antolini natural stone celebrates Mother Nature through its colors and patterns, opening itself up to interactions not only with the related worlds of interior design and furniture but also the more distant worlds of art and fashion.
Founded in 1956 by Luigi Antolini, the firm based in the province of Verona is a leader in the production of natural stone, practicing the state of the art in this sector with a team of 250 employees. Thanks to its lucid, creative and farsighted entrepreneurial vision, Antolini operates in 182 countries, with production and distribution units in Brazil, India and Turkey, along with many showrooms around the world and multiple territorial headquarters throughout Italy.
With a constant focus on the supply of the rarest and most amazing natural stones, Antolini offers a catalogue of 1300 different materials, subdivided into 14 collections. In this range, the Exclusive Collection – containing over 85 various exclusive Antolini materials – represents the qualitative apex of the Verona-based brand, reflecting the company's constant commitment to discover and reveal the charm, uniqueness and authenticity of natural stone, making it available to architects, designers and all those who fully appreciate its original and timeless beauty.